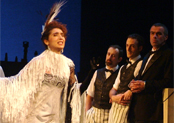 Photo: Opéra Théâtre de Metz
Metz 2005, Jean-François Vinciguerra dir.
Offenbach - Keck
Monsieur Choufleuri restera chez lui (OEK critical edition) (1861)
Duration: 60 minutes
Opéra-bouffe in one act
Libretto von M. de Saint Rémy (= A. de Morny), E. L'Epine, Hector Crémieux und Ludovic Halévy; auch in dt. Übersetzung (frz., dt.)
Scoring
2S,T,2bufT,lyrBar,2speaking roles; chorus;
2.1.2.1-2.2.1.0-timp.perc-strings
Abbreviations (PDF)
Uraufführung
9/14/1861
Présidence du Corps Législatif, Paris
Company: unknown
Erstaufführung der Fassung
9/28/2005
MC2, Auditorium et Grand Théâtre, Grenoble
Laurent Pelly, Regisseur
Conductor: Jérémie Rohrer (Grenoble) / Benjamin Levy (Lyon)
Company: Ensemble, Choir and Orchestra of L'Opera de Lyon
Roles
| | |
| --- | --- |
| CHOUFLEURI, Rentier | Lyrischer Bariton |
| ERNESTINE, seine Tochter | Soubrette |
| CHRYSODULE BABYLAS, ein junger Komponist | Tenorbuffo |
| PETERMANN, Diener bie Choufleuri | Tenorbuffo |
| BALANDARD, Gast | Tenor |
| Madame BALANDARD, Gast | Sopran (oder Tenor) |
| Weitere Gäste | |
Time and Place
Paris im Jahre 1833
Synopsis
Der neureiche Choufleuri möchte sich mit einem Hauskonzert in die Gesellschaft einführen. Herrschaften aus den besten Kreisen sind geladen, um einer Gesangsdarbietung dreier gefeierter italienischer Stimmvirtuosen beizuwohnen, von denen die ganze Stadt spricht. Doch im letzten Augenblick sagen nicht nur die besten Gäste, sondern auch die Sänger ab. Choufleuri droht eine furchtbare Blamage, da kommt Babylas, der ungelittene (weil nicht standesgemäße) Geliebte von Choufleuris Tochter Ernestine der rettende Einfall. Das Konzert findet doch statt, Babylas, Ernestine und Choufleuri selbst "geben" die Italiener, das kunstsinnige Publikum glaubt den Schwindel und Babylas erhält schließlich zur Belohnung die Hand Ernestines.
Subjects
Beziehungen, Gesellschaft, Musik/Künste
Recommended Recording