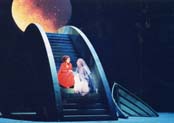 Photo: Theater Chemnitz / Dieter Wuschanski
Prokofieff, Serge
The Duenna (Betrothal in a Monastery)
(Die Verlobung im Kloster)
(1940-41)
Lyric comic opera in 4 acts (9 scenes)
Duration: 156 minutes
Music Text
Libretto by the composer and Mira Mendelson, after Sheridan's play (R,E)
Scoring
2S,M,C(or M),C,8T,T(or Bar),5Bar,4B,silent role; chorus
2.picc.2.corA.2.bcl.2.dbn-4.3.3.1-timp.perc:tgl/maracas/tamb/wooden dr/SD/cyms/BD/tam-t-hp-str. On-stage musicians (various scenes): gtr;cl-crt-perc(1):BD. Off-stage musicians (various scenes): perc(1):maracas-str(4.0.2.3.0); fl.asax-str(2.0.3.2.2);
2cl-2.1.1.1-perc:tgl/cyms/BD/pitched glasses
Abbreviations (PDF)
Publisher
Boosey & Hawkes / Sikorski
Territory
This work is available from Boosey & Hawkes / Sikorski for the UK, British Commonwealth (excluding Canada), Republic of Ireland, Germany, Switzerland, Denmark, Iceland, Norway, Sweden, Netherlands, Spain, Portugal, Greece, Turkey, Israel.
Uraufführung
5/5/1946
National Theatre, Prague
Company: Prague National Theatre Opera
Roles
| | |
| --- | --- |
| DON JEROME, ein reicher Mann aus Sevilla | Tenor |
| FERDINAND, sein Sohn | Bariton |
| LOUISA, seine Tochter | Sopran |
| DIE DUENNA (MARGARET) | Alt |
| ANTONIO, in Louisa verliebt | Tenor |
| CLARA D'ALMANZA, Louisas Freundin | Mezzosopran |
| MENDOZA, ein reicher Fischhändler | Baß |
| DON CARLOS, ein verarmter Adliger, Mendozas Freund | Bariton |
| VATER AUGUSTIN, Vater Superior des Klosters | Bariton |
| BRUDER ELIXIER | Tenor |
| BRUDER CHARTREUSE | Bariton |
| BRUDER BENEDIKTIN | Baß |
| Zwei Mönche | Tenöre |
| LAURETTA, Louisas Hausmädchen | Sopran |
| ROSINA, Claras Hausmädchen | Alt |
| LOPEZ, Ferdinands Diener | Tenor |
| Don Jeromes Freund | ohne Gesang |
| Don Jeromes Diener | ohne Gesang |
| Diener, Hausmädchen, Mönche, Gäste, Maskenspieler, Kaufleute | |
Time and Place
Sevilla, 18. Jahrhundert
Synopsis
Don Jerome, ein Adliger aus Sevilla, macht mit Mendoza, einem reichen Fischhändler, ein Geschäft. Unter anderem sieht die Verabredung vor, daß Mendoza Don Jeromes Tochter Louisa zur Frau bekommt. Diese liebt jedoch den hübschen Don Antonio. Und ihr bester Freund, Don Ferdinand, schwärmt für ihre beste Freundin Clara, die damit alles andere als einverstanden ist. Louisa bittet ihre Anstandsdame, die Duenna, die selber hinter Mendoza her ist, um Hilfe. Gemeinsam hecken sie einen Plan aus. Sie bringen Don Jerome dazu, die Duenna zu entlassen – zuvor allerdings hat sie mit Louisa Kleider und Schleier getauscht.

Auf der Straße trifft Louisa Clara, die sich über Ferdinand ärgert und überlegt, ins Kloster zu gehen. Sie läßt sich überreden, mit Louisa die Kleider zu tauschen, um so Antonio besuchen zu können. Derweil überzeugt die Duenna, verkleidet als Louisa, Mendoza, mit ihr durchzubrennen – das sei doch viel romantischer. Als Don Jerome von den beiden Ausreißern hört, ist er zwar überrascht, gibt den beiden jedoch seinen Segen. Noch verwirrender wird das Ganze, als Louisa selbst einen Heiratssegen von ihm erbittet, den sie auch bekommt. Im Kloster bittet Louisa Clara inständig, ihren Bruder Ferdinand zu akzeptieren. Da erscheint Antonio, um Louisa zur Trauung abzuholen. Dabei werden die beiden von Ferdinand beobachtet, der glaubt, daß Antonio Clara heiratet. Seine Eifersucht wiederum bleibt der wirklichen Clara nicht verborgen, die nun Ferdinands Werben nachgibt.

Nach weiteren Mißverständnissen mit einer Schar betrunkener Mönche werden die beiden Paare glücklich vereint und feiern freudig ihre Hochzeit. In Don Jerome Haus präsentiert Mendoza seine neue Frau Louisa – in Wirklichkeit ist es die Duenna. Als der Schwindel ans Licht kommt, kehrt er der Gesellschaft voller Zorn den Rücken. Als Don Jerome erfährt, daß sein Sohn die steinreiche Clara heiraten wird, begräbt er seine Geschäftspläne und stimmt der Hochzeit Louisas mit Antonio zu, auch wenn dieser kein Geld hat.
Subjects
Recommended Recording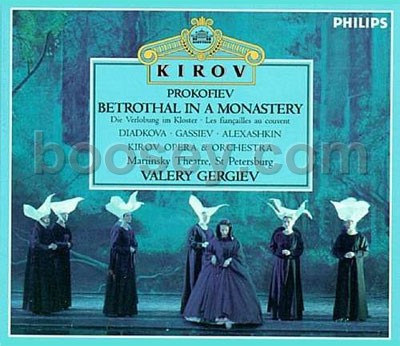 Nikolai Fassiev/Alexander Gergalov/Anna Netrebko/Larissa Diadkova/Kirov Chorus & Orchestra/Valery Gergiev
Philips 462 107 (3 CDs)