Britten, Benjamin
Billy Budd (original 4-Act version)
(1951)
Opera in four acts
Duration: 162 minutes
Music Text
Libretto by E M Forster and Eric Crozier, adapted from the story by Herman Melville (E,G,I)
Scoring
Major roles: T,Bar,B; minor roles: 4T,7Bar,BBar,2B;
children's roles: 4Tr,boy speaker,boy actors; men's chorus
4(II,III,IV=picc).2.corA.3(II=Ebcl,bcl;III=bcl).asax.2.dbn-
4.4(III in D).3.1-timp(3).perc(6):xyl/glsp/tgl/wdbl/tamb/SD/TD/BD/
whip/cyms/small gong/4drums(on-stage)-harp-strings
Abbreviations (PDF)
Publisher
Boosey & Hawkes
Territory
This work is available from Boosey & Hawkes der ganzen Welt.
Uraufführung
12/1/1951
Royal Opera House, Covent Garden, London
Basil Coleman, Regisseur
Conductor: Benjamin Britten
Company: Royal Opera Covent Garden
Time and Place
An Bord der HMS Indomitable während der französischen Kriege im Jahr 1797
Synopsis
Der Oper geht ein Prolog voraus, in dem der frühere Kapitän Vere, nun ein alter Mann, über die Bedeutung lang vergangener Ereignisse nachdenkt. Die Haupthandlung spielt an Bord des britischen Marineschiffes HMS Indomitable im Jahr 1797. Die Besatzung geht ihrer Arbeit nach, schikaniert von dem brutalen Waffenmeister John Claggart, der durch Gewalt das Regiment führt. Drei neue Matrosen, von einem vorbeifahrenden Handelsschiff zwangsrekrutiert, kommen an Bord. Zwei von ihnen sind eher kümmerliche Gestalten, doch der dritte – Billy Budd – ist jung, stark und gut aussehend. Billy gewinnt mit seiner Gutherzigkeit die Sympathien aller, nur nicht Claggarts, dessen düstere Welt durch die schöne Erscheinung und Anmut Billys auf den Kopf gestellt wird. Er ist entschlossen, Billy zu vernichten. Als das Schiff in feindliche Gewässer fährt, mustert Vere die Matrosen an Bord. Alle, auch Billy, schwören ihrem Kapitän unbedingte Loyalität.

Claggart lässt seinen Handlanger Squeak Billys Sachen durchwühlen; der junge Matrose erwischt ihn jedoch dabei. Dansker, ein alter Seebär, warnt Billy, dass Claggart es auf ihn abgesehen hat. Ein Neuer, den sich Claggart zuvor durch eine Prügelstrafe gefügig gemacht hat, unternimmt auf sein Geheiß den Versuch, Billy zu bestechen und zur Beteiligung an einer Meuterei zu überreden – vergebens. Trotzdem geht Claggart mit seiner Anschuldigung gegen Billy zu Vere; seine Beschwerde wird jedoch durch ein Scharmützel mit einer französischen Fregatte unterbrochen, mit der Flucht des Feindes endet. Als Claggart endlich seine Anschuldigungen gegen Billy vorbringt, wird dieser von Vere aufgefordert sich zu verteidigen. Billy stottert jedoch nur herum, verstummt schließlich ganz und tötet Claggart mit einem einzigen Schlag. Vor dem Kriegsgericht kann Vere nicht für Billy eintreten; er wird verurteilt. Mit Veres Namen auf den Lippen geht er seinem Tod entgegen. Im Epilog sieht man wieder den alten Vere in Gedanken über seine Rolle bei den Ereignissen.
Repertoire Note
Billy Budd was written during 1950-51 and first performed in December 1951 as part of that year's 'Festival of Britain' celebrations. In 1960, Britten revised the work, contracting the original four acts into two, in which form it is now generally performed (though the original version is now again available for performance). The work is based on Herman Melville's posthumous novel Billy Budd, Foretopman which Britten and his librettists (E.M.Forster and Eric Crozier) transformed into an opera of great musico-dramatic power and psychological subtlety. Although Billy is the opera's eponymous hero, the real focus of the work is the moral dilemma facing Captain Vere who, confronted with an agonising decision between saving Billy and his sense of duty as the ship's Captain is at the centre of the drama (a theme further explored by Britten in Gloriana).
Billy Budd employs the largest orchestra of any Britten opera, capable of unleashing an elemental power when the moment demands it, but in general, the orchestration favours the more sharply etched, transparent textures developed in the chamber operas.
Reproduced by kind permission of the Britten-Pears Library
Moods
dramatisch, poetisch, tragisch
Subjects
Recommended Recording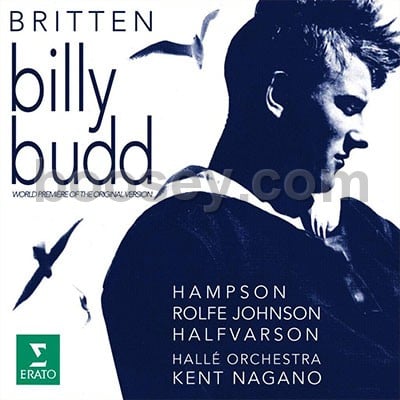 Thomas Hampson/Anthony Rolfe Johnson/Eric Halfvarson/Northern Voices/Halle Orchestra/Kent Nagano
Erato 3984-21631-2