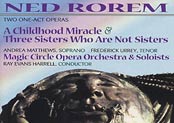 Photo:
Rorem, Ned
Three Sisters who are not Sisters
(1968)
Opera in three acts with piano accompaniment
Duration: 35 minutes
Music Text
Libretto by Gertrude Stein (E)
Abbreviations (PDF)
Publisher
Boosey & Hawkes
Territory
This work is available from Boosey & Hawkes der ganzen Welt.
Uraufführung
7/24/1971
Philadelphia, Pennsylvania
Conductor: Henry Butler
Company: Temple University
Roles
| | |
| --- | --- |
| JENNY | Sopran |
| HELEN | Sopran |
| ELLEN | Mezzosopran |
| SAMUEL | Tenor |
| SYLVESTER | Bariton |
Time and Place
nicht näher bestimmt
Synopsis
 
Fünf-Personen-Krimi mit Klavierbegleitung. Libretto von Gertrude Stein. Ein surreales Spiel um Sein, Schein und Mord.
In diesem surrealen, verschlungenen Krimi um einen Mord spielen drei Schwestern (die gar keine Schwestern sind) und zwei Brüder (die tatsächlich Brüder sind) Mord. Zunächst schlafen alle. Als sie erwachen, kann das Spiel beginnen. Die Szene verdunkelt sich. Dann kommt wieder Licht, und die Bühne ist leer – außer dem ermordeten Sylvester. Später wacht Jenny aus einem Nickerchen auf entdeckt den toten Sylvester. Kurz darauf findet sie Helens Leiche. Samuel kommt herein, verkleidet als Polizist. Die Lichter gehen aus. Als sie wieder angehen, ist nur noch Jenny auf der Bühne. Sie versteckt sich unter dem Bett. Samuel kommt wieder, auf der Suche nach einem möglichen Opfer. Als er hört, wie Ellen hereinkommt, versteckt er sich. Er überrascht sie, und es wird dunkel. Die Lichter gehen wieder an – Ellen ist tot. Samuel schleicht wieder in das Zimmer und greift Jenny an. Jenny tritt ihn an die Schläfe; sterbend singt er eine Arie. Begeisterter Applaus. Man hört die Stimmen aller fünf Beteiligten aus der Dunkelheit. Als die Lichter wieder angehen, ist alles wieder wie am Anfang. Sie fragen sich: Sind wir tot oder haben wir es nur gespielt? Jenny unterbricht den Gesang und mahnt, daß es Zeit ist, zu Bett zu gehen.
Subjects
Recommended Recording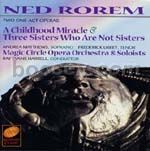 Andrea Matthew, Carol Flamm, Madeline Tsingopoulos, Frederick Urrey, Mark Singer, John Van Buskirk, Ray Evans Harrell
Newport Classics NPD 85594