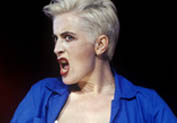 Photo: Ponch Hawkes
Kats-Chernin, Elena
Matricide, the musical
(1998)
Opera in one act
Duration: 75 minutes
Music Text
Libretto by Kathleen Mary Fallon (E)
Scoring
6S
cl(=bcl,asax)-pft(=kbd)-perc:marimba/xyl/glsp/vib/t.bells/chimes/
metal chimes/log dr/SD/BD/kick dr/drumkit/tom-t/gong/knives/tpl.bl/
wdbl/sand bl/cyms/hi hat/shells/maracas/tamb/double bass bow/ratchet/
guiro/stones/bell tree/claves/crot/toy horns and bugle sounds/fife/
pots and pans/thundersheet-db
Abbreviations (PDF)
Publisher
Boosey & Hawkes / Bote & Bock
Territory
This work is available from Boosey & Hawkes in der ganzen Welt.
Availability
Uraufführung
11/27/1998
The Unallocated Space, Melbourne, VIC
Angela Chaplin, Regisseur
Conductor: Jane Hammond
Company: Chamber Made Music
Roles
| | |
| --- | --- |
| CHORA | Sopran |
| IMPASSIONATA | Sopran |
| Chor der Mütter und Töchter | 4 Sopran |
Time and Place
Ein Gefängnis in Neuseeland in den 1950er Jahren
Synopsis


In Matricide, the musical geht es um den durch die Verfilmung berühmt gewordenen Fall zweier verliebter Mädchen in Neuseeland, die eine ihrer beiden Mütter umbringen, weil sie sie trennen will. Das Opern-Musical spielt in dem Gefängnis nach ihrer Verurteilung; Rückblicke werfen ein Schlaglicht auf die komplexe Dynamik der Mutter/Tochter-Beziehungen und stellen gleichzeitig satirisch die konservative Gesellschaft der 1950er Jahre dar. Das grelle, aufgedrehte Bühnenwerk läßt in der Behandlung sexueller Aspekte und hinsichtlich der Sprache nichts an Offenheit zu wünschen übrig.
Subjects