MacMillan, James
Music Theatre work for speaker, actors, soprano and ensemble
Duration: 29 minutes
Music Text
Text from Latin Mass and Poems by the Argentinian Mothers of the Disappeared, translated by Gilbert Markus O.P. (L-E)
Scoring
8 actors, 3 sopranos, speaker
1(=afl).0.3(III=bcl).0-0.3.3(III=ttrbn/btrbn).0-perc(2):I=vib/2tam-t/drum kit/wdbl/2spring coils/sleighbells;
II=lg tam-t/drum kit/maracas/wdbl/2spring coils/sleighbells/claves-2harps-2vlc.db
Abbreviations (PDF)
Publisher
Boosey & Hawkes
Territory
This work is available from Boosey & Hawkes in der ganzen Welt.
Availability
Uraufführung
12/6/1988
Queen's Hall, Edinburgh
John Shedden, Sprecher
Conductor: James MacMillan
Company: ECAT Ensemble
Synopsis
Schlafgeräusche. Lord have mercy… Männer und Frauen harren die Nacht aus, voller Angst vor den Hinrichtungen auf den Straßen und den Entführungskommandos. Ein Schrei in der Dunkelheit. And on earth peace, goodwill towards men… Eine Frau zählt mit ihrer Familie die Wochen und Monate, seit ihr jüngerer Bruder vier Jahre zuvor verschwand. Ihre Söhne fragen sie: "Was ist Gerechtigkeit? Gibt es Barmherzigkeit? Ist es Sünde, für die Wahrheit einzustehen?" Sie antwortet ihnen, kann dabei aber ihre Tränen nicht unterdrücken. And he became incarnate of the Virgin Mary, and was made man. Ein Sohn wird vermißt und seine Mutter hegt die Erinnerung an sein junges Leben. He was crucified for us…Die Zeitungen verteidigen den Staat und berichten über "den Mob verrückter Frauen, die vor dem Präsidentenpalast stehen und Erklärungen verlangen – es wurden Maßnahmen ergriffen, um die Menge auseinander zu treiben". Holy, Holy, Holy, Lord God of Hosts… And on the third day he rose from the dead… Tausende sind verschwunden und die Mütter hören nicht auf zu weinen, zu beten, zu kämpfen und zu warten. Lamb of God, have mercy on us. Eine Mutter, deren Tochter vermißt wird, bereitet sich auf ihre wundersame Rückkehr vor und versucht ihre quälenden Erinnerungen zu beruhigen. Grant us peace. Die Mutter hat nicht umsonst gewartet. Da sind wieder die Geräusche des Schlafes.
Subjects
Recommended Recording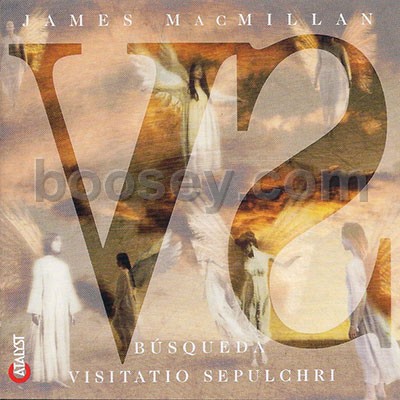 Juliet Stevenson, Ruth Anderson, Charlotte Spink, Anna Bentley, Scottish Chamber Orchestra, James MacMillan
BMG Catalyst 09026626692
(not currently available on sale)
Links