Photo: Unicorn-Kanchana Records
Maxwell Davies, Peter
Miss Donnithorne's Maggot
(1974)
Music-theatre work for mezzo-soprano and ensemble
Duration: 32 minutes
Music Text
Text by Randolph Stow (E,F,G)
Scoring
fl(=picc,afl).cl-perc(1):2susp.cym/BD/tpl.bl/4wdbl/tam-t/
football rattle/SD/bell tree/BD and cym with foot pedal/sandpaper/
glass wind chimes/police whistle/bosun's whistle/chamois leather
rubbed on glass/balloon to pop/thunder sheet(tam-t)/glsp/marimba/crot
-pft(=balloon)-vln.vlc-4metronomes set in motion by the players
Abbreviations (PDF)
Publisher
Boosey & Hawkes
Territory
This work is available from Boosey & Hawkes in der ganzen Welt.
Availability
Uraufführung
3/9/1974
Town Hall, Adelaide
Mary Thomas, Mezzosopran
Conductor: Peter Maxwell Davies
Company: The Fires of London
Roles
| | |
| --- | --- |
| MISS DONNITHORNE | Mezzosopran |
Synopsis
Eine geplatzte Hochzeit wirft das Leben von Miss Donnithorne um und macht sie zu einer exzentrischen Einsiedlerin. Explosiver Gesangspart verlangt nach einer starken Darstellerin mit Vorliebe für Torten und Metronome.
Miss Donnithorne war eine australische Dame und, wie es scheint, eines der Vorbilder für Miss Havisham in Dickens' Great Expectations. Sie wurde, nachdem sie buchstäblich in letzter Minute sitzengelassen wurde, eine Einsiedlerin, und im Stück finden wir sie schwadronierend über dem Rest ihrer Hochzeitstorte vor, die mit Instrumentalisten verziert ist. Wie Maxwell Davies' verrückter König (Mad King) hat auch sie acht Lieder, wobei das fünfte ein Notturno-Zwischenspiel ist, das die Altflöte für sie singt. Wie in dem früheren Werk ist auch hier der Solopart eine tour de force stimmlicher Effekte, die über drei Oktaven führt, auch wenn Miss Donnithorne in all ihrem Wahnsinn noch liedhafter ist als George III. Auch ist die Stimmung der Ensemblemusik etwas verhaltener, kontrollierter, vielleicht mehr einer Lady gemäß – allerdings ist hier eine nicht weniger bedingungslose, brillante Darbietung gefragt ist. Paul Griffiths
Composer Notes
Libretto von Randolph Stow (engl., frz., dt.)
Subjects
Recommended Recording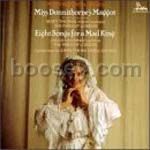 Mary Thomas, The Fires of London, Peter Maxwell Davies
Unicorn-Kanchana DKPCD9052
Links