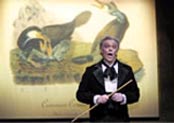 Photo: Klinger&Husar OEG
Argento, Dominick
A Water Bird Talk
(1974-76)
Opera in one act
Duration: 45 minutes
Music Text
Libretto by the composer, freely adapted from On the harmfulness of Tobacco by Chekhov and The Birds of America by J J Audubon. (E)
Scoring
Bar or lowT
1.1.1.0-1.0.0.0-perc(1):timp/glsp/t.bells/marimba/susp.cym-harp-pft(=cel)-strings(1.1.1.1.1)
Abbreviations (PDF)
Publisher
Boosey & Hawkes
Territory
This work is available from Boosey & Hawkes in der ganzen Welt.
Availability
Uraufführung
5/19/1977
Brooklyn Academy of Music, Brooklyn, New York
Ian Strasfogel, Regisseur
Conductor: Philip Brunelle
Company: New Opera Theatre / Orpheus Chamber Ensemble
Roles
| | |
| --- | --- |
| EIN PRIVATGELEHRTER | Bariton oder tiefer Tenor |
Time and Place
Maryland oder Virginia, zweite Hälfte des 19. Jahrhunderts, das Podium in einer Gesellschaft in der Provinz
Synopsis
Der Vortrag eines schrulligen Wissenschaftlers über Wasservögel offenbart, dass er eigentlich ganz andere Probleme hat.
Ein Privatgelehrter hält vor einer Damengesellschaft einen Vortrag über Wasservögel. Seine Beschreibungen der sonderbaren Gewohnheiten der Vögel erscheinen wie Metaphern für die schrecklichen Demütigungen seines eigenen Lebens. Es werden Parallelen gezogen zwischen dem Leben des Redners und den Vögeln, über die er spricht: etwa dem Kormoran, dessen Junge niemals ihr Nest verlassen; dem männlichen Wassertreter, einem häuslichen Vogel, der im Nest wartet, während das Weibchen in der Gegend herumflattert; dem Lund, der, wenn er einen Partner gefunden hat, mit ihm das ganze Leben zusammenbleibt; und dem Seetaucher, einem zarten Vogel, den viele Feinde erbeuten – wenn er bedroht wird, versinkt er ins Unsichtbare. Der Gelehrte illustriert seinen Vortrag mit kolorierten Bildern aus einer Laterna magica, entnommen aus J.J. Audubons The Birds of America. Zu Beginn des Vortrags reagiert seine Frau von der Seitenbühne durch Husten und Räuspern. Angewidert von seinem Vortrag verlässt sie bald den Saal und der Redner beginnt abzuschweifen, wobei immer offenbarer wird, dass sein misslungenes Leben auf das Konto einer herrischen, tyrannischen Ehefrau geht, und von Töchtern, die sich unentwegt über ihn lustig machen.
Press Quotes


"
Meisterhaft die Komposition von
A Water Bird Talk
: Ihre intelligente Konstruktion tritt nur unterschwellig ins Bewußtsein des Hörers. Was er erkennt, ist ein in jedem Moment natürlicher Fluß der musikalischen Rede... Und immer wieder lösen sich harmonische Spannungen in fast Schubert'schem Wohllaut auf."
(Die Presse, Wien, 12.10.2002)
Subjects
Recommended Recording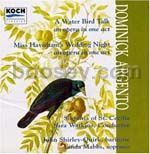 John Shirley-Quirk, Sinfonia of St Cecilia, Sara Watkins
Koch International Classics 7388
Links