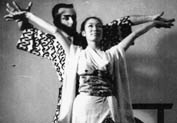 Photo: Courtesy Marvin David Levy
Levy, Marvin David
Lyric drama in one scene
Duration: 30 minutes
Music Text
Libretto by Sam Houston Brock after the Noh play by Kanami Kiyotsugu (E)
Scoring
S,M,T,BBar,2dancers(male and female)
1.1.0.0-0.0.0.0-perc(1):timp/gong/tgl/SD/wdbl/cym(on stand)/tpl.bls-
harp-0.0.1.1.0
Abbreviations (PDF)
Publisher
Boosey & Hawkes
Territory
This work is available from Boosey & Hawkes for the world.
Availability
World Premiere
4/7/1957
Kaufmann Concert Hall, New York, New York
Sanae Kawaguchi, director
Conductor: Sheldon Soffer
Company: Music in Our Time
Roles
| | |
| --- | --- |
| SOTOBA KOMACHI | Soprano |
| 1st PRIEST | Bass Baritone |
| 2nd PRIEST | Tenor |
| CAPTAIN SHII-NO-SHOSHO | Dancer (male) |
| THE YOUNG KOMACHI | Dancer (female) |
| CHORUS | Mezzo Soprano |
Time and Place
Any time period, anyplace
Synopsis
Ono no Komachi, once a beautiful and heartless poet, reflects on her past and on her present shame and misery, evoking her younger self as a vision. Thinking she is a beggar, two priests try to instruct and admonish her, but she remains unmoved, and she reveals her true identity.  The chorus tells the story of a Captain who was madly in love with the young Komachi. The cruel and captivating beauty demanded that he visit her in his chariot for a hundred nights before he could enjoy a rendezvous with her. He died just before his task was completed.  The Captain's love and anger now possess Komachi's soul and have left her a miserable, withered old woman. The priests pray for her.
Moods
Dramatic, Poetic, Romantic
Subjects