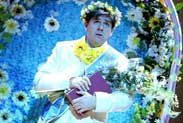 Photo: Opera North / Stephen Vaughan
Britten, Benjamin
Comic opera in three acts
Duration: 137 minutes
Music Text
Libretto by Eric Crozier, freely adapted from a short story of Guy de Maupassant (E,Bg,F,Fl,Fn,G,H,I,P,Sw)
Scoring
2S,2M,A,2T,2Bar,B; Children's roles:Tr,2S
1(=picc,afl).1.1(=bcl).1-1.0.0.0-perc(1):timp/SD/TD/BD/tgl/cyms/cast/
tamb/gong/bells/glsp/whip/wdbl-harp-pft(=conductor)-
strings(1.1.1.1.1)
Abbreviations (PDF)
Publisher
Boosey & Hawkes
Territory
This work is available from Boosey & Hawkes in der ganzen Welt.
Availability
Uraufführung
6/20/1947
Glyndebourne
Frederick Ashton, Regisseur
Conductor: Benjamin Britten
Company: English Opera Group
Roles
| | |
| --- | --- |
| LADY BILLOWS, eine ältliche Autokratin | Sopran |
| FLORENCE PIKE, ihre Haushälterin | Alt |
| Miss WORDSWORTH, Schuldirektorin | Sopran |
| Mr. GEDGE, der Pfarrer | Bariton |
| Mr. UPFOLD, der Bürgermeister | Tenor |
| Kommissar BUDD | Baß |
| SID, Metzgergehilfe | Bariton |
| ALBERT HERRING, vom Lebensmittelladen | Tenor |
| NANCY, von der Bäckerei | Mezzosopran |
| Mrs. HERRING, Alberts Mutter | Mezzosopran |
| EMMIE | Sopran |
| CIS | Sopran |
| HARRY | Knabensopran |
Time and Place
Das Marktstädtchen Loxford in East Suffolk, 1900
Synopsis
In einem Marktflecken in Suffolk treffen sich Pfarrer Gedge, Kommissar Budd, Bürgermeister Upfold und die Schuldirektorin Miss Wordsworth bei Lady Billows, um auf ihr Geheiß eine Maikönigin zu ernennen, um die Bewohner zu mehr Keuschheit zu ermuntern. Jeder einzelne Kandidat, der vorgeschlagen wird, wird von Lady Billows' Haushälterin, Florence Pike, verdammt; sie ist mit diversen Berichten über ihr unwürdiges Verhalten bewaffnet. Schließlich bleibt niemand mehr übrig. Man schlägt stattdessen einen Maikönig vor und entscheidet sich für Albert Herring – untadeliger Sohn einer verwitweten Lebensmittelhändlerin. Die Gruppe informiert Albert und seine Mutter in ihrem Geschäft. Vergeblich versucht der schüchterne junge Mann seine Ernennung abzulehnen.

Bei den Feierlichkeiten in einem Zelt im Pfarrhausgarten bereichert der Metzgergehilfe Sid Alberts Lemonade mit einem Schuss Alkohol, so dass Alberts Beitrag zu dem Ereignis vornehmlich aus Schluckauf und Schweigen besteht. Später, wieder im Geschäft, beobachtet Albert neidvoll die Zuneigung zwischen Sid und seiner Freundin Nancy und bricht mit seinem Preisgeld in der Tasche zu einem kleinen Abenteuer auf.
Am folgenden Nachmittag wächst die Besorgnis über Alberts Ausbleiben. Die Polizei wird verständigt. Schließlich kommen die hastigen Dorfbewohner überein, er müsse ein schlimmes Ende gefunden haben, und stimmen Klagen an. Da taucht Albert auf und bekommt für seine unerlaubte Abwesenheit gehörig die Leviten gelesen; die gsetzte, wohlanständige Gesellschaft reagiert voll Abscheu, als sie von seiner Zecherei in Kneipen erfahren. Albert aber schämt sich nicht im Geringsten und feiert seine neu gewonnene Freiheit, indem er drei Kinder aus dem Dorf in seinen Lebensmittelladen einlädt und ihnen Pfirsiche gibt. Als Schlussgeste wirft er den Orangenblütenkranz für den Maikönig ins Publikum.
Repertoire Note
Britten's second chamber opera was composed just a year after its predecessor, The Rape of Lucretia, in 1947. Yet the contrast in style and subject matter could not be greater: instead of a tragedy based on a tale from Roman antiquity, Albert Herring is a comic opera set in the imaginary East Suffolk town of Loxford at the turn of the 20th century. The score contains some of Britten's wittiest musical invention and his gifts for parody and caricature, already evident in Peter Grimes, are given full reign. However, the work is far from being mere farce: Albert is a sympathetic and credible figure who, tied to his mother's apron-strings and frustrated by small-town pieties, embarks on a debauched 'rake's progress', a theme fully in keeping with the composer's favourite subject of the loss of innocence.
Moreover, such poignant touches as the third-act Threnody, in which Albert, presumed dead, is solemnly mourned by the gathered townsfolk, makes Donald Mitchell's description of the opera as 'a serious comedy' seem completely apt.
Reproduced by kind permission of the Britten-Pears Library
Subjects
Recommended Recording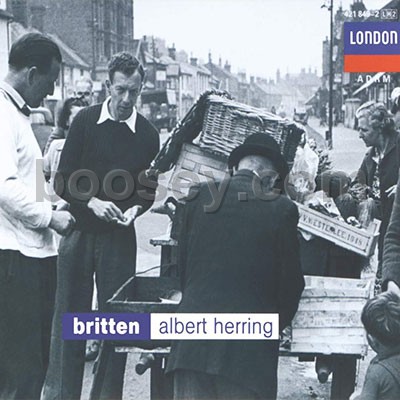 Peter Pears/Sylvia Fisher/Johanna Peters/John Noble/Owen Brannigan/English Chamber Orchestra/Benjamin Britten
Decca 421 8492
Links