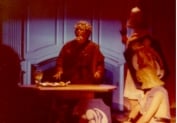 Photo: Dr. Nathaniel S. Lehrman
Blitzstein, Marc
Opera in one act
Duration: 16 minutes
Music Text
Libretto by the composer (E)
Scoring
2S,dramS(or M),M,2T,2Bar
1(=picc).0.1(=Ebcl).1-1.1.1.0-pft-db
Abbreviations (PDF)
Publisher
Boosey & Hawkes
Territory
This work is available from Boosey & Hawkes in der ganzen Welt.
Availability
Uraufführung
5/25/1953
New York, NY
Conductor: Hugh Ross
Company: Manhattan School of Music Opera Workshop
Roles
| | |
| --- | --- |
| PHINEUS, ein blindes altes Orakel | Tenor |
| AELLO, eine Harpyie | Sopran |
| OCYPETE, eine Harpyie | Mezzosopran |
| CELANEO, eine Harpyie | Alt |
| ZETES, ein Argonaut | Tenor |
| CALAIS, ein Argonaut | Bariton |
| JASON, ein Argonaut | Baß |
| IRIS, eine Botin | Sopran |
Time and Place
Auf der Terrasse von Phineus' Villa, in griechischer Zeit
Synopsis
Diese Verballhornung von griechischer Mythologie – und von musikalischem Neoklassizismus – soll auch eine Allegorie über die Zeit der großen Depression sein. Das im antike Thrakien angesiedelte Werk ist mit acht Darstellern besetzt, gleichmäßig aufgeteilt zwischen den Hauptpersonen (Tenor und Sopran), einer Gruppe von drei weiblichen Harpyien und drei männlichen Argonauten. Im Mittelpunkt steht Phineus, ein blinder Seher, der sein Abendessen genießen möchte, aber ständig von den Harpyien angegriffen wird. Sie nehmen ihm nicht nur sein Essen weg, sondern hinterlassen auch noch einen üblen Geruch.

Jason erscheint mit den Argonauten und verspricht, die Harpyien zu vertreiben, wenn Phineus ihm dafür garantiert, dass die Götter ihm weiter gewogen bleiben. Sobald die Harpyien besiegt sind, tritt Iris als Götterbotin auf. Sie verspricht Phineus, dass er nun auf ewig sicher vor den Harpyien sein wird; den Harpyien verordnet sie diverse Folterqualen. Der Prophet kann nun in Ruhe essen.
Subjects