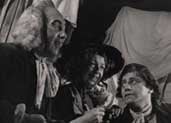 Photo: Angus McBean
Britten, Benjamin
The Beggar's Opera
(1948)
Ballad-Opera by John Gay (1728), realized from the original airs by Benjamin Britten
Duration: 108 minutes
Music Text
Text by John Gay (E,F,G)
Scoring
S,2M,T(or Bar),T(or speaker),Bar,B,speaker; chorus
1(=picc).1(=corA).1.1-1.0.0.0-perc(1):timp/susp.cym/SD/TD/BD/tamb/
tgl/gong/wdbl-harp-strings (1.1.1.1.1)
Abbreviations (PDF)
Publisher
Boosey & Hawkes
Territory
This work is available from Boosey & Hawkes in der ganzen Welt.
Availability
Uraufführung
5/24/1948
Arts Theatre, Cambridge
Tyrone Guthrie, Regisseur
Conductor: Benjamin Britten
Company: English Opera Group
Roles
| | |
| --- | --- |
| Bettler | Sprechrolle |
| Mrs. PEACHUM | Mezzosopran |
| Mr. PEACHUM | Baß |
| POLLY | Mezzosopran |
| Hauptmann MACHEATH | Tenor |
| FILCH | Tenor (oder Sprechrolle) |
| LOCKIT | Bariton |
| LUCY LOCKIT | Sopran |
| Mrs. TRAPES | Alt |
| SUKY TAWDRY, MRS. COAXER, DOLLY TRULL, MRS. SLAMMEKIN, MOLLY BRAZEN | Soprane/Mezzosoprane |
| BEN BUDGE, WAT DREARY, MAT OF THE MINT, JEMMY TWITCHER | Tenöre/Baritone/Bässe |
Time and Place
London, Anfang des 18. Jahrhunderts
Synopsis
In seiner Räuberhöhle erörtert Peachum, der Anführer einer Diebesbande, mit seiner Frau den Wert der verschiedenen Schurken in seinen Diensten, bevor sie auf den Straßenräuber Hauptmann Macheath kommen, für den ihre Tochter Polly schwärmt. Als die Eltern sie beschuldigen, Macheath geheiratet zu haben, gibt Polly es zu. Mr. und Mrs. Peachum trösten sich mit der Aussicht, dass er wahrscheinlich bald (von ihnen, wenn von niemand anderem) wegen seiner Taten angeklagt werden wird und Polly als reiche Witwe zurückbleibt. Ihr graut es jedoch vor dem Gedanken; sie erzählt dem Hauptmann alles. Beide beschließen, sich sicherheitshalber vorübergehend zu trennen.
In einem Gasthaus in der Nähe vom Gefängnis Newgate versammelt sich eine Räuberbande. Sie besprechen ihren Plan, einer Kutsche auf Hampstead Heath aufzulauern. Macheath warnt sie vor, dass er sich für eine Weile rar machen muss. Als die anderen weg sind, kommt eine Schar liederlicher Frauen herein, um ihn zu unterhalten; das Ganze wurde jedoch von Peachum eingefädelt, um Macheath zu verraten – am Schluss des Aktes wird er der Polizei ausgeliefert.
In Newgate bietet Macheath dem Gefängniswärter Lockit an, seine Tochter Lucy zu heiraten. Lockit und Peachum haben aber schon einen Plan ausgeheckt, um sich die Belohnung, die nach Macheaths Exekution fällig wird, zu teilen. Weitere Verwirrung entsteht, als Polly mit ihren eigenen Eheansprüchen kommt: Zwischen den beiden Frauen kommt es fast zu Handgreiflichkeiten. Schließlich gelingt es Lucy, sich die Schlüssel zu verschaffen und Macheath zu befreien, doch wird er später wieder verhaftet. Lucys Plan, Polly zu vergiften, misslingt; die früheren Rivalinnen bitten ihre Väter, ihren Mann freizulassen – vergebens. Zum Schluss wird der Impresario der Oper, der Bettler, zur Begnadigung bewogen.
Repertoire Note
The popularity of Britten's three chamber operas proper (The Rape of Lucretia, Albert Herring and The Turn of the Screw) has tended to somewhat overshadow his brilliant adaptation of John Gay's The Beggar's Opera, the realisation of which was completed in 1948. Indeed, Britten's harmonisations and arrangements of the pre-existing tunes, which he described as 'among our finest national songs', is so personal and idiosyncratic that the opera sounds like a totally original work. Despite the longish stretches of spoken dialogue, Britten brings all his usual techniques of dramatic characterisation to bear and binds the work together by effective use of leitmotif and meaningful key-schemes.
The scoring too is brilliantly imaginative with Britten varying the range and constitution of the orchestra almost from number to number. Dramatically too, the story chimes neatly with Britten's preoccupations with the penultimate scene, where Macheath reflects on his fate in the condemned cell, remarkably foreshadowing the similar moment near the end of Britten's next full-scale opera Billy Budd.
Reproduced by kind permission of the Britten-Pears Library
Subjects
Recommended Recording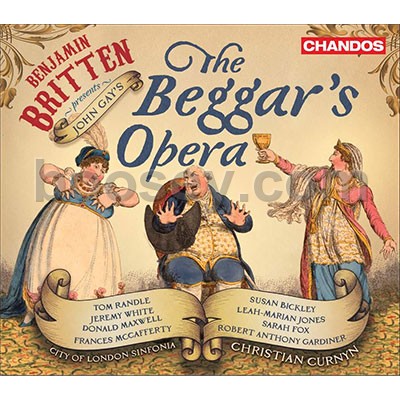 Tom Randle/Susan Bickley/Jeremy White/Leah-Marian Jones/Donald Maxwell/Sarah Fox/City of London Sinfonia/Christian Curnyn
Chandos 10548(2)
Links