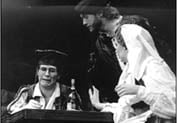 Photo: The Center for Contemporary Opera
Argento, Dominick
Comic opera in two scenes and an interlude
Duration: 70 minutes
Music Text
Libretto by John Manlove, after the Induction Scene from Shakespeare's `The Taming of the Shrew' (E)
Scoring
3S,M,3T,3Bar,B,mime
1.1.1.1-2.1.0.0-perc(1):SD/tgl/tamb/wdbl/cyms/susp.cym/xyl-
hpd or pft-string quintet(1.1.1.1.1)-3recorders on stage (optional)
Abbreviations (PDF)
Publisher
Boosey & Hawkes
Territory
This work is available from Boosey & Hawkes in der ganzen Welt.
Availability
Uraufführung
5/31/1963
Minneapolis, Minnesota
John Manlove, Regisseur
Conductor: William Johnson
Company: University of Minnesota
Roles
| | |
| --- | --- |
| PETER TURPH, Schneider | Tenor |
| HENRY PIMPERNELL, Schmied | Baßbariton |
| CHRISTOPHER SLY, Kesselflicker | Baßbariton |
| MARION HACKET, Wirtin des Wirtshauses | Mezzosopran |
| 3 Jäger (später 3 Diener) | Bariton, Tenor, Baß |
| Ein Lord | Tenor |
| 2 Damen | Lyrische Soprane |
| Ein Page | Sopran |
| Ein Justizbeamter, Musiker | Rollen ohne Gesang |
Time and Place
England, 16. Jahrhundert
Synopsis


Christopher Sly
ist die Geschichte eines betrunkenen Kesselflickers, der von seinen Gläubigern verfolgt wird. Als der Lord und seine Jagdbegleiter ihn zu Hause vorfinden, wie er gerade seinen Rausch ausschläft, lässt man ihn auf das Schloss bringen, wo der Lord und sein Gefolge einen ausgeklügelten Streich mit ihm spielen: Sie versuchen ihn zu überzeugen, dass er ein verrückt gewordener Edelmann und sein vergangenes Leben bloß ein Traum ist. Als Sly erwacht, erfüllt man ihm jeden Wunsch – natürlich besonders den nach einem guten Tropfen. Der Lord lässt sogar seinen Pagen als Slys junge Frau auftreten. Da kommen seine Gläubiger am Schloss an und Sly begreift, dass er zum Narren gehalten wurde.
Mit einem eigenen Scherz will er sich rächen. Er macht sich auf und davon mit so vielen Wertgegenständen des Lords, wie eben in seinen Sack gehen, bezahlt seine Gläubiger und lebt glücklich bis an sein Ende. Das heißt, er tritt mit den Liebhaberinnen des Lords im Arm vor die Bühne und erklärt die Moral des Stücks: Vergnügen gehört dem Augenblick und soll in vollen Zügen genossen werden.
Subjects
Links