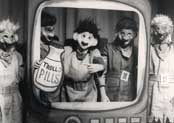 Photo: Gunnie Moberg
Maxwell Davies, Peter
Opera in two acts for young people to play and sing
Duration: 50 minutes
Music Text
Libretto vom Komponisten nach einer Kurzgeschichte von George Mackay Brown (engl., frz., dt., ital., span.)
Scoring
S,T,2Bar,B or 5 children; children's chorus;
2.1.2.1-1.2.1.0-timp.perc(6):2glsp/marimba/xyl/4tpl.bl/2wdbl/2brandy glasses/SD/BD/tam-t/4susp.cym/cyms/choke cym/tamb/flex/referee's whistle/swannee whistle/football rattle/guiro/nightingale/beaters and scrapers including a pair of knitting needles/vln bows/plastic soapdish/brushes-pft(=metronome,plectrum)-2vln(to be played by the singers of the Two Fiddlers if possible).string quintet or sm all string orchestra-bagpipes(optional) (all instruments intended to be played by children)
The opera may also be performed with piano and two violins only.
Reduced version (Philipp Vandré):
S,T,2Bar,B; children's chorus;
trumpet, bassoon, violin 1 (=Fiddler parts),violin 2 (=Fiddler parts), viola, cello, piano, percussion(2)
(Singers and musicians are professionals, chorus is made up of children).
Abbreviations (PDF)
Publisher
Boosey & Hawkes
Territory
This work is available from Boosey & Hawkes in der ganzen Welt.
Availability
Uraufführung
6/16/1978
Orkney Arts Theatre, Kirkwall, Orkney
Conductor: Norman Mitchell
Company: Kirkwall Grammar School
Roles
| | |
| --- | --- |
| STORM KOLSON und | Tenor (oder Kinderstimme) |
| GAVIN, zwei Fiddlespieler | Bariton (oder Kinderstimme) |
| Trollkönig | Bariton (oder Kinderstimme) |
| Trollkönigin | Sopran (oder Kinderstimme) |
| Geistlicher | Bass (oder Kinderstimme) |
| Chor der Trolle / Partygäste | Knaben- und/oder Mädchenstimmen |
Synopsis
Die Geschichte beruht auf einer Legende, wie sie auf den schottischen Orkney-Inseln erzählt wird. Zwei Fiddlespieler begegnen auf der Heimkehr von einer Hochzeitsfeier den Trollen. Gavin kann sich von dannen machen, doch Storm wird in die Tiefe hinabgezogen, um für die dort versammelte Koboldschar zu spielen. Dankbar gewähren ihm die Trolle einen Wunsch. Storm wünscht sich, dass seine Mitbürger von jetzt an nie mehr arbeiten müssen. Die arglistigen Trolle aber haben ihn hinters Licht geführt. Draußen bei den Menschen gehen derweil die Jahre ins Land. Gavin gründet eine Familie, wird Vater und Großvater und erlangt Wohlstand. Da taucht Storm wieder auf. Die Zeit, die er bei den Trollen verbracht hat, kommt ihm wie ein kurzer Augenblick vor. Wieder vereint, gehen die beiden Freunde zu einer Party, wo Storm mitansehen muß, wie träge die Menschen durch die Erfüllung seines Wunsches geworden sind: Sie sitzen vor der Glotze, hören Popmusik und frönen allerlei schrecklichen Dingen. Storm stimmt eine neue Melodie an, um den Zauber zu brechen und den Leuten ihre Schaffenskraft zurückzugeben. Unter fröhlichen Festklängen wird der Haggis, ein traditionelles Innereiengericht, hereingebracht, und der Schlusschor besingt die Moral der Geschichte, den Wert eines tätigen Lebens und die segensreiche Kraft der Musik.
Subjects
Recommended Recording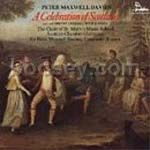 Scottish Chamber Orchestra, Peter Maxwell Davies
Unicorn-Kanchana DKPCD9070 (Dances only)