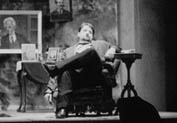 Photo: Carl Brandon
Argento, Dominick
One act opera buffa
Duration: 55 minutes
Music Text
Libretto by John Olon-Scrymgeour based on the play by Anton Chekhov (E,G)
Scoring
S,T,BBar
1(=picc).1(=corA).2(II=bcl).1-2.1.0.0-timp.perc:xyl/tgl/glsp/SD/BD/
susp.cyms/tamb-pft-strings
Abbreviations (PDF)
Publisher
Boosey & Hawkes
Territory
This work is available from Boosey & Hawkes in der ganzen Welt.
Uraufführung
5/6/1957
Rochester, NY
Leonard Treash, Regisseur
Conductor: Frederick Fennell
Company: Eastman School of Music
Roles
| | |
| --- | --- |
| DIE WITWE, jung und schön | Sopran |
| DER FLEGEL | Baßbariton |
| DER DIENER, ein alter Mann | Tenor |
Time and Place
Jahrhundert; das Haus der Witwe
Synopsis


Eine Witwe hat ein Jahr lang um ihren toten Mannes getrauert. Da erscheint ein ländlich gekleideter Herr mittleren Alters, ein eher ungehobelter Kerl, und fordert sie auf, alte Schulden ihres Mannes zurückzuzahlen. Sie weigert sich zu zahlen, er weigert sich zu gehen. Der Streit eskaliert, bis die Frau den 'Bären' zu einem Duell herausfordert. Dieser ist beeindruckt von der Entschlossenheit der kämpferischen Witwe; er schwört ihr seine Liebe und will sie heiraten. Sie droht ihn mit der Duellpistole ihres Mannes zu erschießen, lässt sich jedoch von seiner Hingabe erweichen und küsst ihn. Ironischerweise war die Schuld, die den Anlass zu der Begegnung zwischen der Witwe und dem Gläubiger gegeben hatte, das Geld, das der Ehemann sich geliehen hatte, um Hafer für sein Pferd Tony zu kaufen – und dann zu geheimen Treffen zu reiten… Der Diener bemüht sich, der Witwe das Trauern auszureden und sie zur Rückkehr zu zu glücklicheren Tagen zu bewegen.
Subjects