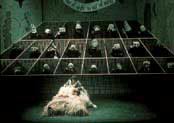 Photo: Guy Gravett
Stravinsky, Igor
The Rake's Progress
(1948-51)
Opera in three acts
Duration: 150 minutes
Music Text
Libretto by W H Auden and Chester Kallman (E,Cz,F,G,I)
Scoring
Major roles: lyrS,dramM,hT,Bar; minor roles: A,T,2B; chorus
2(II=picc).2(II=corA).2.2-2.2.0.0-timp.perc:offstage bell/cuckoo-hpd(or pft)-strings
Abbreviations (PDF)
World Premiere
9/11/1951
Teatro la Fenice, Venice
Carl Ebert, dir / Nicola Benois, prod
Conductor: Igor Stravinsky
Company: Chorus and Orchestra of the Teatro alla Scala, Milan
Roles
| | |
| --- | --- |
| TRULOVE | Bass |
| ANNE TRULOVE, his daughter | Soprano |
| TOM RAKEWELL, her sweetheart | Tenor |
| NICK SHADOW | Baritone |
| MOTHER GOOSE, a brothel-keeper | Mezzo Soprano |
| BABA THE TURK, bearded lady | Mezzo Soprano |
| SELLEM, the auctioneer | Tenor |
| KEEPER OF THE MADHOUSE | Bass |
| Whores, roaring boys, servants, citizens, madmen | chorus |
Time and Place
England, 18th century
Synopsis
In the idyllic countryside, Anne Trulove and Tom Rakewell celebrate their love. Anne's father has found a job for Tom in the city, but Tom longs for an easier path to money. Nick Shadow appears with news that Tom has inherited a fortune from an unknown uncle. They must leave for London and Tom need only pay Shadow for his services after a year and a day. In the wicked city, Shadow introduces Tom to Mother Goose's brothel. Back in the country, Anne fears the worst and decides that she must rescue Tom.
<br/ >
<br/ >Meanwhile, Tom, in his new London house, is already bored with ordinary pleasures, so Shadow suggests visiting the amazing bearded woman, Baba the Turk. When Anne arrives at Tom's house, she is horrified to find him married to the hideous Baba. When Tom tires of Baba as well, Shadow appears with one last new idea… a machine that turns stones into bread. Anne again appears to save Tom, but this time his house is for sale and his property for auction. The bankrupt Tom has disappeared with Shadow. Baba urges Anne to follow him.
<br/ >
<br/ >A year and a day from their first meeting, Shadow brings Tom to a graveyard at night. A terrified Tom discovers he must pay not with money but with his soul. But, as Shadow is about to take hold of him, Tom hears Anne's voice in the distance and his past love is reawakened. Shadow, defeated, disappears into the ground. Tom survives, but he is now mad and is shut up in Bedlam. Anne comes there to comfort him, but there is little to be done. Her father arrives and persuades her to leave Tom to his fate.
Subjects
Ethics, History, Literary, Magic/Mystery, Relationships, Society
Recommended Recording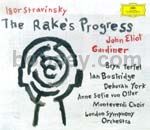 Jerry Hadley, Dawn Upshaw, Samuel Ramey, Grace Bumbry, Steven Cole, Anne Collins, Robert Lloyd, Roderick Earle, Lyon Opera Chorus, Lyon Opera Orchestra, Kent Nagano
Erato 0630127152
Click here to purchase this CD set from Amazon
Ian Bostridge, Deborah York, Bryn Terfel, Anne Sofie von Otter, Peter Bronder, Anne Howells, Martin Robson, Julian Clarkson, Monteverdi Choir, London Symphony Orchestra, John Eliot Gardiner
Deutsche Grammophon 4596482