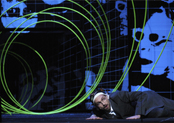 Photo: Jörg Landsberg
Kalitzke, Johannes
Opera based on the play of the same title by Peter Weiss
Duration: 100 minutes
Music Text
Libretto adaptation: Johannes Kalitzke (G)
Scoring
lightS,S,2A,CT,heldT,3T,charBar,Bar,BBar; mixed chorus; 2(I=rec,picc;II=afl,picc).2(II=corA).2(II=bcl).bcl.asax.tsax.2(II=dbn).dbn-4.3.2.1-timp.perc(3)-elec.git-theorbe-pft(=synth)-cel(=synth)-strings(10.8.6.5.4)-tape-live electronics; 4trbn and perc off-stage
Abbreviations (PDF)
World Premiere
6/11/2005
Theater am Goetheplatz, Bremen
David Mouchtar-Samorai, director
Conductor: Stefan Klingele
Company: Theater Bremen
Roles
| | |
| --- | --- |
| DANTE ALIGHIERI | (Character) Baritone |
| VERGIL (also: LATIN, GIOTTO) | (Helden-) Tenor |
| BOSS (also: CHARON, MINOS, PLUTO, PHLEGIAS, MINOTAUROS, FUTSCHI, ULYSSES) | Bass Baritone and Counter-Tenor (roles distributed, resp. doubled as "alter ego") |
| TSCHACKO (also: FILIPP, PATZO, GERYON) | Tenor |
| BEATRICE | Light Soprano ("pop singer") |
| FIGURE 1 (also: LYNX) | Soprano |
| FIGURE 2 (also: WOLF, MEDUSA) | Alto |
| FIGURE 3 (also: LION) | Baritone |
| FIGURE 4 (also: CAPANEUS) | Tenor |
| FIGURE 5 | Tenor |
| FIGURE 6 | Alto |
| (Under different maskings, figures 4-6 form the counter chorus) | |
Synopsis
A party in high spirits. Suddenly, they discover a stranger in their midst. Is it Dante, the poet, returned from exile? Long ago, Dante created the image of an inferno as a place of punishment for sinners. But the hell he has now entered is reality itself.

Dante sets out to seek his love, Beatrice. However, the tracks are blurred, and he can no longer recognize his former home town. The inhabitants do not want to be reminded by the poet of their past cruelties. They scorn Dante and attempt to silence his rebellious spirit. Led by Virgil, here the opportunistic, unsavoury state poet, they point out to Dante that he himself has become guilty: he himself took part in a pogrom, led a pleasant life in exile and was not able to save Beatrice. His resistance broken, Dante enters his name in the town visitors' book.

Even though Dante is now part of the inferno society that knows nothing but the present, he still hears the laments and cries of the past. He dreams of a peaceful place yet his words are twisted into propaganda. The poet's renewed resistance is brutally suppressed and he is stripped of his renown. Helpless, Dante stands alone as in the beginning. In a vision, Beatrice appears, renouncing them all.
Repertoire Note
Peter Weiss (1916–1982) is one of the most important writers in German of the second half of the 20th century. In the mid-1960s, Weiss planned a trilogy inspired by Dante's Divina Commedia. The third part of the trilogy, based on the Paradiso section of Divina Commedia, was premiered on 16 stages at the same time in 1965. Under the title Die Ermittlung, it explores the records of the Auschwitz trial in Frankfurt. Inferno was completed in 1964; left to the author's estate, it was not published until 2003 and has not been performed on stage so far.

Inferno is a piece about post-war Germany and the author's own life in emigration, his experiences as a Jew and as a German-speaking author abroad. In collaboration with the director of the premiere, David Mouchtar-Samorai, Johannes Kalitzke has abridged Peter Weiss's text without adapting the wording of the remaining material. The main characters in Inferno, as in Divina Commedia, are Dante himself and the Roman poet Virgil. Dante returns to the land of perpetrators, where they want to use him in order to rid themselves of their guilt. As Weiss put it in 1964, "Inferno is today's Germany… yesterday's murderers at the head of modern business, industry and culture."





 
Press Quotes
"Kalitzke's Inferno is his most important work to date … allusions to waltz, ragtime, hoquetus, toccata and boogie are more hinted at than quoted. Similar things happen with the references to Palestrina or Brahms. The inherent plethora of perspectives impresses greatly including the conciliatory use of electronics at the end… This is possibly the most convincing music theatre piece in recent years."
Frankfurter Allgemeine Zeitung


"…The music is more a surreal soundscape resembling Chinese lanterns decorating a nocturnal scene with colourful blinding lights. Kalitzke speaks of a sound between major and minor, of a background of quotes from Palestrina, Satie and Brahms, of the confrontation between a theorbo and an electronic guitar. All this is part of the building material… A true enrichment of contemporary music theatre..."
Suddeutscher Zeitung


"…Kalitzke's music was frequently of beguiling variety and sensuousness… A work people will remember, an opera that will find a place in the standard repertoire of newly created works."
Opernnetz
Composer Notes
Inferno is about the mirror of collective self-deception represented by the artist's conduct, which the outside world regards as corruptible. My crucial concern is the relationship between commerce and totalitarianism. Dante's human weakness, which he failed to resist, is the other side of his artistic integrity, of his distance; it is exploited in favour of a violent and vain community and instrumentalized in the sense of extortion.

The work is characterized best by the notion of 'dark show'; it is a piece which contains numerous dance elements and whose three 'circles' have 10, 7 and 5 parts (which could be termed turns); towards the end, the features of those parts are urged more and more closely together as in a whirl, although the piece is calming down and getting less complex. There are revue elements (ragtime, boogie), albeit in contorted shapes, as well as parodies of old musical forms such as hocket, minuet, etc. The overall form is based on the idea of rotation, of circles, spirals and whirls, symbols of inward recurrence, and thus refers to Dante's circles of hell rather than the principle of the cantos and their mathematical proportions, as the length of the original did not allow for these proportions to be used.

The libretto is a shortened version of the original which, although the text is regarded sacrosanct, is simply too long for an opera and therefore needs to be shortened in order to concentrate on the essentials.

© Johannes Kalitzke (Translation: Andreas Goebel)
Subjects
History, Literary, Politics