Offenbach - L'Épine
Trafalgar sur un volcan (OEK critical edition)
(1855)
Comédie à ariettes en un acte
Duration: 45 minutes
Music Text
Livret de Joseph Méry (français); version allemande de Stefan Troßbach
Scoring
2(=picc).1.2.1-2.2Pistons.1.0-perc.timp-strings
Abbreviations (PDF)
Publisher
B&B
Territory
This work is available from Boosey & Hawkes for the world.
World Premiere
12/29/1855
Bouffes parisiens, Paris
Company: Bouffes parisiens
World premiere of version
3/12/2005
Théâtre Mogador, Paris
Conductor: Cyril Diederich
Company: Orchestre Pasdeloup
Roles
| | |
| --- | --- |
| PIERRE dit Trafalgar | Baryton |
| ST ELME, enseigne de vaisseau | Ténor |
| MISS KATRINA, actrice du théâtre royal de Dublin | Soprano |
Time and Place
Dublin en 1806
Synopsis
Les troupes de Napoléon ont été battues par les Britanniques, mais deux officiers de la marine française tiennent la ville de Dublin sous leur emprise : Le jeune Saint-Elme et son ami paternel Trafalgar se sont barricadés avec un gros baril de poudre et menacent de le faire sauter s'il y a de la résistance dans la ville. Cela provoquerait l'éruption du volcan qui sommeille dans le sous-sol et détruirait tout.
L'actrice Katrina se réfugie dans la maison des deux loups de mer. Elle n'a plus envie d'avoir à mourir sur scène chaque soir de nouveau. Trafalgar tombe immédiatement amoureux d'elle. Il veut l'épouser et repartir enfin voguer sur la vaste mer. Pour ne pas se compromettre, Katrina se cache de Saint-Elme qui rentre d'une promenade en ville. Saint-Elme lui aussi cherche à se lier. Malheureusement, la belle voisine qu'il convoite est déjà mariée. Tant pis : grâce aux arguments explosifs qu'il a sous la main, et en vertu de l'ancien droit anglo-saxon, il peut persuader l'époux de lui vendre sa femme. Hélas, par la même occasion, Saint-Elme a fait l'acquisition de ses huit enfants. Au désespoir, il menace de mettre le feu aux poudres. C'est là qu'apparaît Katrina qui révèle qu'elle aime Saint-Elme depuis longtemps. En outre, elle offre comme dot les recettes de la représentation d'Hamlet de la soirée. Subjugué, Saint-Elme accepte ; quant à Trafalgar, vues les différences d'âge et de caractère entre lui et l'enthousiaste actrice, il se satisfait même du rôle du père.
Subjects
Recommended Recording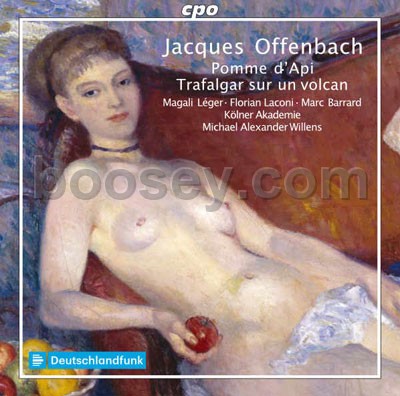 Magali Léger, soprano / Florian Laconi, tenor / Marc Barrard, baritone / Kölner Akademie / Michael Alexander Willens, cond.
CPO 555 268-2