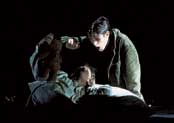 Photo: Catherine Ashmore
Britten, Benjamin
The Turn of the Screw
(1954)
Opera in a prologue and two acts
Duration: 101 minutes
Music Text
Libretto by Myfanwy Piper, after a story by Henry James (E,F,Fn,G,I)
Scoring
Tr,3S,S(orM),2T
1(=picc,afl).1(=corA).1(=bcl).1-1.0.0.0-perc(1):4timp/BD/SD/TD/tom-t/
gong/cyms/tgl/wdbl/glsp/t.bells-harp-pft(=cel)-strings(1.1.1.1.1)
Abbreviations (PDF)
Publisher
Boosey & Hawkes
Territory
This work is available from Boosey & Hawkes der ganzen Welt.
Uraufführung
9/14/1954
Teatro La Fenice, Venice
Basil Coleman, Regisseur
Conductor: Benjamin Britten
Company: English Opera Group
Roles
| | |
| --- | --- |
| DER PROLOG | Tenor |
| DIE ERZIEHERIN | Sopran |
| MILES | Knabensopran |
| FLORA | Sopran |
| MRS. GROSE, Haushälterin | Sopran |
| QUINT, ein früherer Diener | Tenor |
| MISS JESSEL, eine frühere Erzieherin | Sopran |
Time and Place
Bly, ein englisches Landhaus, Mitte des 19. Jahrhunderts
Synopsis
Im Prolog gibt der Tenor einen schriftlichen Bericht wieder, in dem eine junge Frau erzählt, wie sie eine Stelle in einem Haus mit zwei Kindern angenommen hat, und zwar mit der Vereinbarung, sich niemals an den abwesenden Vormund der Kinder zu wenden. In der Haupthandlung sehen wir die Erzieherin auf ihrer Reise zu jenem Haus namens Bly; sie ist ängstlich, wird jedoch von der Haushälterin Mrs. Grose freundlich begrüßt und fasst sofort Zuneigung zu den Kindern, Miles and Flora. Bald trifft allerdings ein Brief von Miles' Schule ein: Der Junge wird als "unzumutbar für seine Kameraden" bezeichnet und von der Schule ausgeschlossen. Die Erzieherung beschließt nicht mit ihm darüber zu sprechen.
Eines Tages sieht sie eine merkwürdige Gestalt auf dem Grundstück. Sie beschreibt sie Mrs. Grose, die erklärt, dass es sich um Quint handeln muss, den früheren Diener des Vormunds. Er hatte sich mit der früheren Erzieherin, Miss Jessel, allerhand Freiheiten herausgenommen. Miss Jessel verließ schließlich das Haus und verstarb; kurz darauf starb auch Quint. Die Erzieherin ist überzeugt, einen Geist gesehen zu haben, und macht sich Sorgen um Miles. Am See wird die Erzieherin der Gegenwart von Miss Jessel gewahr, und merkt auch, dass Flora vorgibt, sie nicht zu sehen. Quint und Miss Jessel rufen nachts Miles und Flora, und wenig später erscheint Miss Jessel der Erzieherin im Unterrichtsraum. Sie beschließt, dem Vormund entgegen der Abmachung nun doch zu schreiben, doch Miles, angestachelt von Quint, stiehlt den Brief und verschafft Flora die Gelegenheit, zu einem Treffen mit Miss Jessel fortzulaufen. Mrs. Grose kann die Geister nicht sehen, doch überzeugt sie eine mit Flora verbrachte Nacht, dass etwas Schlimmes im Gange ist, und sie bringt das Mädchen fort aus Bly. Als die Erzieherin Miles mit ihren Vermutungen konfrontiert, erscheint Quint und spricht den Jungen an, der daraufhin in den Armen der Erzieherin stirbt.
Repertoire Note
Regarded by many as the finest of all his stage-works, The Turn of the Screw, Britten's final chamber opera, was written in the incredibly short period of just four months in 1954. The work is based on the novel of the same name by Henry James which Britten had known for many years: a tale of good versus evil, natural versus the supernatural, possession and exorcism, set within the domestic proprieties of the Essex country house of Bly - ingredients which would have had an obvious appeal for the composer. Above all, Britten's favourite theme of the corruption of innocence must have attracted him more than any other.
The story also lends itself to Britten's gifts for apt and distinctive musical characterisation, the relatively 'pure' and uncomplicated music for the opera's mortals contrasting strongly with the alluring, other-worldly music associated with the ghosts.
The work is one of the most tautly constructed and tightly-knit of all Britten's operas, the musical material almost wholly derived from the twelve-note 'Screw' theme heard near the work's opening. However, this very concentration helps give this work its overwhelming feeling of intense claustrophobia and its astonishing dramatic power can have a shattering impact in the theatre.
Reproduced by kind permission of the Britten-Pears Library
Subjects
Recommended Recording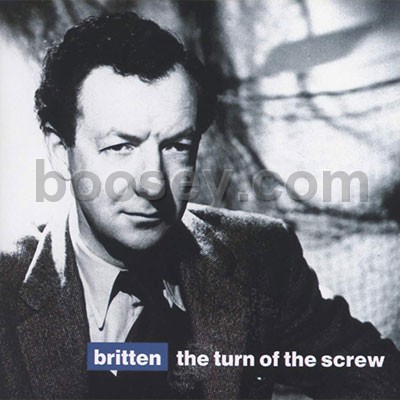 Peter Pears/Jennifer Vyvyan/Arda Mandikian/David Hemmings/Oliver Dyer/Joan Cross/English Opera Group Orchestra/Benjamin Britten
Decca 425 6722