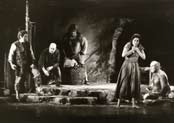 Photo: PSD/Steinmentz
Strauss, Richard
Die Frau ohne Schatten
(The Woman without a Shadow)
(1914-17)
Opera in three acts
Duration: 210 minutes
Music Text
Libretto by Hugo von Hofmannsthal (G,E,F,I,J)
Scoring
Major roles: dramcolS,dramS,hdramS,dramM,heldT,heldBar;
minor roles: T,Bar,B; small roles: 3S,3A,T,3B,6children; chorus
4(III,IV=picc).3(III=corA).2(=Ccl).Ebcl(=Dcl).bhn(=Ccl).bcl(=Ccl).
4(IV=dbn)-8(V-VIII=ttuba).6.4.1-timp.perc:musical glasses/2cel/glsp/
whip/5chinese gongs/cyms/SD/xyl/bells/BD/TD/tgl/tamb/2cast/tam-t-
2harp-strings(vln16.16,vla6.6,vlc6.6,db8)Stage orchestra: 2.1.2Ccl.1-
1.6.6.0-perc:windmachine/thundermachine/ 4tam-t-org
NB On-stage woodwind and hor
n may play in pit if necessary. Two of the on-stage trumpets move t
o the pit for Act III, thus a total of ten trumpets is required.
Abbreviations (PDF)
Publisher
Boosey & Hawkes
Territory
This work is available from Boosey & Hawkes in aller Welt mit Ausnahme von Deutschland, Italien, Portugal, Danzig und den Gebieten der früheren UdSSR.
Availability
Uraufführung
10/10/1919
Vienna
Conductor: Franz Schalk
Company: Wiener Staatsoper
Roles
| | |
| --- | --- |
| DER KAISER | Heldentenor |
| DIE KAISERIN, seine Frau | Dramatischer Koloratursopran |
| BARAK, der Färber | Heldenbariton |
| SEINE FRAU | Dramatischer Sopran |
| DIE AMME | Dramatischer Mezzosopran |
| Der Bote | Bariton |
| Baraks Brüder | 2 Baritone, Tenor |
| Ein Hüter der Schwelle | Sopran oder Countertenor |
| Erscheinung eines Jungen | Tenor |
| Stimme des Falken | Sopran |
| Stimme von oben | Alt |
| Kinderstimmen | 2 Soprane, 3 Alt |
| Stimmen der Wächter der Stadt | 3 Bässe |
| Kaiserliche Diener, Kinder, untergeordnete Geister, Geisterstimmen | |
Synopsis
Keikobad, der Geisterkönig, schickt einen letzten Boten mit einem Ultimatum: Wenn die Beziehung seiner Tochter sich nicht von selbstsüchtiger Leidenschaft zu ehelicher und elterlichter Liebe wandelt, symbolisiert durch den Schatten der Kaiserin, wird der Kaiser zu Stein erstarren. Die Kaiserin zwingt ihre Amme, sie in die Menschenwelt zu bringen, um einen Schatten zu finden, während ihr Mann auf der Jagd ist.

Sie gelangen zum Haus des Färbers Barak und seiner Frau, die sich nach Kindern sehnen, um ihre kümmerliche Existenz zu verbessern. Die Amme verspricht der Frau Reichtümer, wenn sie sich ihrem Mann drei Tage lang verweigert und der Mutterschaft abschwört. Am dritten Tag gesteht die Färberin ihrem Mann, daß sie ihren Schatten verkauft hat und ihr Leib nun unfruchtbar ist. Die Kaiserin zögert, den Schatten anzunehmen, da er mit dem Blut ungeborener Kinder befleckt ist. Barak droht, seine Frau umzubringen, doch die beiden werden durch ein Erdbeben und eine Flut getrennt und in Keikobads Reich gebracht. Die Kaiserin und die Amme reisen in einem Boot zum Königreich der Geister.

Isoliert in der Dunkelheit, bekennen sich Barak und seine Frau zu ihrer Liebe und werden befreit; sie müssen sich allerdings erneut finden. Die Kaiserin ist entschlossen, sich dem Urteil ihres Vaters zu unterwerfen. Sie löst sich von dem bösen Einfluß ihrer Amme. Beim Eintritt in den Tempel bietet man ihr einen Trunk von den Wassern des Lebens an, mit denen sie sich den Schatten endgültig zu eigen machen und ihren Mann retten kann, der mit Ausnahme seiner Augen zu Stein geworden ist. Doch als sie hört, wie Barak und seine Frau nach einander rufen, weigert sie sich zu trinken. Da erscheint ihr eigener Schatten, und der Kaiser wird befreit – ihre ungeborenen Kinder jubeln. Barak und seine Frau sind wieder vereint, und die beiden Frauen feiern die bestandenen Prüfungen auf dem Weg zur Mutterschaft.
Moods
poetisch, romantisch
Subjects
Recommended Recording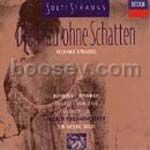 Julia Varady, Plácido Domingo, Hildegard Behrens, José Van Dam, Reinhild Runkel, Albert Dohmen, Sumi Jo, Robert Gambill, Elzbieta Ardam, Eva Lind, Gottfried Hornik, Hans Franzen, Wilfried Gahmlich, Vienna Boys' Choir, Vienna State Opera Chorus, Vienna Philharmonic, Sir Georg Solti
Decca 4362432
Links