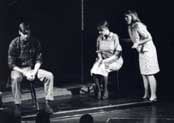 Photo:
Floyd, Carlisle
A musical play in one act
Duration: 40 minutes
Music Text
Libretto by the composer (E)
Scoring
S,M,T,Bar
2.2(cor A).2(2 bcl).2-2.2.2.0-timp.perc(1).hp.strings
Abbreviations (PDF)
Publisher
Boosey & Hawkes
Territory
This work is available from Boosey & Hawkes for the world.
World Premiere
5/2/1949
Augustana College, Syracuse, New York
Ruth Ives, director
Company: Syracuse University
Roles
| | |
| --- | --- |
| AUNT SUE | Mezzo-Soprano |
| JESS | Baritone |
| SADIE | Soprano |
| MICAH | Tenor |
Time and Place
the present, a farmhouse in the sandhills of the Carolinas
Synopsis
Floyd's first opera Slow Dusk is a simple, powerful story set in the sand hills of the Carolinas amidst poverty and low-keyed religious fanaticism.  The story unfolds around the tragedy of a May afternoon, which alters the course of a young girl's life.


Aunt Sue, a rough-hewn woman of middle age, opposes the marriage of her niece Sadie to Micah Hatfield, who lives across the pond and who belongs to the Truelights, a different religious sect than the Disciples, to which Sue's family subscribes.


Sue painfully and patiently gives her niece her reasons for opposing the marriage.  Music marks the passing of time from late afternoon until dusk, and in the evening, Sue reports to Sadie that Micah has drowned during the day while fishing.  Jess, Sadie's brother, consoles his aunt who feels guilty from her sense of complicity.


Sadie vows fidelity to Micah's memory, mourning the emptiness of her life without him.


 
Subjects
Relationships, Religion, Society