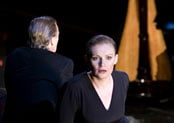 Photo: Ada Nieuwendijk
Birtwistle, Harrison
A scena for soprano, tenor and ensemble
Duration: 48 minutes
Music Text
Libretto by David Harsent (E)
Scoring
fl.cl-harp-vln.vla.vlc
Abbreviations (PDF)
Publisher
Boosey & Hawkes
Territory
This work is available from Boosey & Hawkes in der ganzen Welt.
Availability
Uraufführung
6/12/2009
Britten Studio, Aldeburgh
Peter Gill, dir / Elizabeth Atherton, sop / Mark Padmore, ten
Conductor: Ryan Wigglesworth
Company: London Sinfonietta
Synopsis
Orpheus und Eurydike. Eine Szene, ein Moment, der alles entscheidet. Wie können die lebensverändernden Augenblicke in ihrer ganzen Brutalität verstanden werden?
Nur wenige mythische Ereignisse sind so brutal wie jener Moment, in dem Orpheus sich umdreht, um zurückzublicken. Zwar hat er nicht die direkte, physische Brutalität wie der Tod des Aktaion oder die Häutung des Marsyas, doch die Verbindung von Torheit und Unumkehrbarkeit geht tiefer als Schärfe und ist körperlich fühlbarer als Bedauern.

The Corridor beginnt mit diesem Moment. Eurydike steht auf der Spannungslinie zwischen Leben und Tod, und obwohl der Raum, den sie einnimmt, keine besonderen Merkmale hat – ein Korridor, ein Gang, ein Weg –, entlässt er sie zurück in die Unterwelt. Die Liebe trieb sie aus dem Hades, und nun schickt die Liebe sie wieder zurück dorthin. Die Oper zeichnet ihre Reise nach. Sie entwirft auch eine Lesart des Mythos von Orpheus und Eurydike, in der Verlust und Treue nicht das sind, was sie zu sein scheinen.
David Harsent
The Cure und The Corridor können als Doppelabend oder separat aufgeführt werden.
Press Quotes
"The Corridor, Birtwistle nennt es ein 'Stück virtuosen Kammertheaters', konzentriert sich auf den Moment, in dem Orpheus sich zu seiner Frau umdreht und sie dadurch für immer verliert. Der Gegensatz zur alles verlangsamenden Tristesse von Dowland ist verblüffend: Birtwistles Musik für die in die Unterwelt zurückwandelnde Eurydike ist sehr repetitiv. Sie zerfällt desto mehr in ihre Einzelteile, je mehr sie von Orpheus abrückt. Während die Instrumente in Semper Dowland aus einzelnen Melodiebögen allmählich ein Ganzes formen, bilden sie hier eine heterogene, desintegrierende Gruppe. Die Instrumente sind zugleich die 'Schatten', in deren Welt Eurydike zurückkehrt. Die Sopranistin Elizabeth Atherton beweist im wilden Zwiegespräch mit den Schatten, besonders während der gesprochenen Passagen, beeindruckendes Schauspieltalent. Mark Padmore, wieder von der diesmal geradezu grellen Harfe begleitet, endet mit einem wiederholten, verzweifelten 'Eurydike'-Ruf, dem alle Süße abgeht. Obwohl die Verbindung zu Birtwistles Dowland-Arrangement mehr formell bleibt, ist diese vorzüglich musizierte Doppelvorstellung fraglos eine würdige Einführung in die neue Ära des ehrwürdigen Festivals." (Alexander Menden, Süddeutsche Zeitung, 15.06.2009)
Subjects
Links