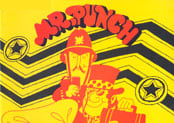 Photo:
Hurd, Michael
Pop-Cantata / An Opera for young people, for solo voices, unison chorus, piano and opt. percussion
Duration: 30 minutes
Music Text
Text vom Komponisten; deutsche Übertragung von Peter Ruschenburg (dt.)
Scoring
7 soloist(s) (from chorus); 1dog; unison chorus; pft (2 or 4 hands); perc(opt):glsp(or metallophone)/SD/cym/xyl -
This work is represented by N. Simrock only in the German version
Abbreviations (PDF)
Publisher
Anton J. Benjamin / Simrock
Territory
This work is available from Boosey & Hawkes der ganzen Welt.
Roles
| | |
| --- | --- |
| PUNCH | |
| Der Hund TOBY | |
| Sergeant SCARAMOUCH | |
| JUDY, Punchs Frau | |
| ARZT | |
| POLIZIST | |
| JACK KETCH, der Henker | |
| TEUFEL | |
| Chor | |
Synopsis
Punch, eine "chaplineske Figur: energisch, voll guten Willens, aber naiv und leicht zu täuschen", gleicht den Kasper-Figuren, Harlekinen und anderen Verwandten aus der langen Komödien-Tradtion. Er meistert alle kniffligen Situationen und entwischt den großen wie den kleinen Gefahren: Den Hund Toby läßt er in eine Gummi-Attrappe seines Daumens beißen, den unaufhörlich fiedelnden und singenden Sergeanten Scaramouch prügelt er hinaus, sein schreiendes Baby traktiert er so tölpelhaft, daß es partout nicht einschlafen kann, und wirft es schließlich einfach weg. Seine zeternde und ihn daraufhin verprügelnde Frau kann er überhaupt nicht verstehen: "Du kannst doch jederzeit ein neues Baby haben." Derbe Situationskomik bestimmt die einzelnen Szenen; so "tot" (wie in der Arzt-Szene) kann Punch gar nicht sein, als daß er nicht blitzschnell den Spieß umdrehen würde. So geschieht es dem Arzt, der am Ende selbst tot umfällt; so widerfährt es dem Henker, der ihn aufhängen will und zu guter Letzt selber in der Schlinge hängt. Zufrieden sonnt Punch sich in seinen Erfolgen; alle hat er kleingekriegt, alle sollen sich "zum Teufel scheren!" Doch da kommt der Teufel selbst und will ein "kleines Geschäft" mit ihm regeln: "Du bist dem Gesetz entwischt. Du bist dem Henker entwischt. Du bist sogar deiner Frau entwischt. Aber mir entkommst du nicht." Punch hat jetzt wirklich Angst. Alles scheint vorbei. Da fällt ihm auch diesmal ein Trick ein, auf den der Teufel prompt hereinfällt. Kaum seiner Handschellen ledig, reißt Punch dem Teufel den Schwanz aus. "Faß den Teufel beim Schwanz und du wirst sein Herr!" Punchs Triumphlied, von Chor und Publikum gesungen, beschließt die Handlung.
Repertoire Note
Handlung und Figuren von "Mr. Punch" gehen auf das gleichnamige englische Puppenspiel von John Payne Collier aus dem Jahre 1828 zurück Das Stück ist dem Geist der viktorianischen Music-Halls nachempfunden und soll auch so aufgeführt werden. Die Figuren sind mit wenigen derben Strichen gezeichnet, leben aus der Situationskomik. Eine einfach ausgestattete Bühne mit charakteristischen Requisiten reicht als Spielfläche aus. Jede Figur (ausgenommen der Hund Toby) hat ein Lied, das im Mittelpunkt der jeweiligen Szene steht. Der Polizist und Judy singen ein Duell, am Anfang und am Schluß steht ein Chor mit "Punchs Triumphlied", als Zwischenspiel wird ein vierstimmiger Kanon gesungen. Die Musik ist gemäßigt modern, bleibt im tonalen Raum; Ahnlichkeiten mit Prokofjew; differenzierte Figurencharakteristik. Von der kleinen Orchesterbesetzung wird präzises Zusammenspiel erwartet; die Gesangsstimmen sind nach Stimmlagen unterschieden, bewegen sich aber nicht in Extremlagen, die Darsteller müssen sprechen und singen. (Gunter Reiß / Mechthild von Schoenebeck, "Musiktheater für Kinder und Jugendliche")
Subjects