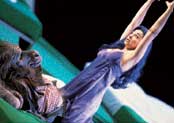 Photo: Bill Rafferty
Britten, Benjamin
A Midsummer Night's Dream
(1960)
Opera in three acts
Duration: 144 minutes
Music Text
Libretto adapted from Shakespeare by Benjamin Britten and Peter Pears (E,Cz,F,G,H,I,P,Sc,Sw)
Scoring
colS,S,M,A,CT/A,3T,2Bar,BBar,3B,acrobat speaking role;
children's roles: 4Tr,chorus
2(=picc).1(=corA).2.1-2.0.Dtpt.1.0-perc(2):tgl/cyms/tamb/gong/2wdbl/
vib/glsp/xyl/tamburo/SD/TD/BD/timp/2bells-2harps-hpd(=cel)-
strings (min 4.2.2.2.2)-Stage band:sopranino recorders/cyms/2wdbl
Abbreviations (PDF)
Publisher
Boosey & Hawkes
Territory
This work is available from Boosey & Hawkes in der ganzen Welt.
Uraufführung
6/11/1960
Jubilee Hall, Aldeburgh
John Cranko, Regisseur
Conductor: Benjamin Britten
Company: Snape Maltings
Roles
| | |
| --- | --- |
| OBERON, König der Elfen | Countertenor |
| TITANIA, Königin der Elfen | Koloratursopran |
| PUCK | Akrobat/Sprechrolle |
| THESEUS, Fürst von Athen | Baß |
| HYPPOLYTA, Amazonenkönigin, mit Theseus verlobt | Alt |
| LYSANDER, in Hermia verliebt | Tenor |
| DEMETRIUS, in Hermia verliebt | Tenor |
| HERMIA, in Lysander verliebt | Mezzosopran |
| HELENA, in Demetrius verliebt | Sopran |
| BOTTOM, ein Weber | Baßbariton |
| QUINCE, ein Zimmermann | Baß |
| SNUG, ein Tischler | Tenor |
| SNOUT, ein Kesselflicker | Tenor |
| STARVELING, ein Schneider | Bariton |
| COBWEB, PEASEBLOSSOM, MUSTARDSEED, MOTH | Kinderstimmen |
| Chor der Elfen | Kinderstimmen oder Soprane |
Time and Place
Ein Wald bei Athen
Synopsis
Bei Einbruch der Dämmerung erscheinen Elfen in Diensten ihrer Königin Titania, gefolgt von Puck, einem Geisterwesen im Dienst des Elfenkönigs Oberon. Bald trifft nacheinander das zerstrittene königliche Paar selbst ein; es kommt zu einer Auseinandersetzung, und Titania entschwindet mit ihren Elfen. Oberon schickt Puck auf die Suche nach einem bestimmten Kraut; wer es im Schlaf auf seine Augenlider bekommt, verliebt sich in das nächste Lebewesen, das ihm oder ihr begegnet. Nun tritt das Liebespaar Lysander und Hermia auf, denen das athenische Gesetz verbietet zu heiraten (Hermia soll Demetrius heiraten). Hermia und Lysander wollen zusammen aus der Stadt fliehen. Die beiden verschwinden, als Oberon erscheint und ein zweites athenisches Paar beobachtet, Demetrius (der Hermia liebt), verfolgt von Helena (die Demetrius liebt). Nachdem sie fort sind, kommt Puck mit dem Kraut wieder, und Oberon weist ihn an, einen Athener (nämlich Demetrius) zu suchen und seine Augen damit zu beträufeln, damit er sich in Helena verliebe. Da tritt eine Gruppe Handwerker aus Athen auf, die ein Theaterstück einüben und vor dem Herzog Theseus aufführen wollen. Der Mittelpunkt der Truppe ist Bottom, der den Pyramus in Pyramus und Thisbe gibt. Die Hobbyschauspieler beschließen, später für die Proben zurückzukommen.
Nun beginnen die Verwechslungen: Puck beträufelt Lysanders Augen, der seine Neigungen daraufhin zu Helena wendet, und Oberon beträufelt Titanias Augen, worauf diese sich in Bottom verliebt, dem Puck mit boshaftem Vergnügen einen Eselskopf angehext hat. Unter den vier Athenern kommt es zu einem gewaltigen Streit, bis Puck sie in den Schlaf schickt, aus dem sie geheilt wieder erwachen. Auch Bottom ist wieder der Alte. Oberon und Titania schließen Frieden, und nach der erfolgreichen Aufführung von Pyramus und Thisbe vor den hochherrschaftlichen Gästen (denen man im Wald begegnet ist), segnet das königliche Elfenpaar Theseus, seine Frau Hippolyta und ihr Haus.
Repertoire Note
In August 1959, Britten decided to compose a full-evening opera for the reopening of the refurbished Jubilee Hall in Aldeburgh in June 1960. As this left no time for a libretto to be prepared anew, he chose to adapt with Peter Pears Shakespeare's A Midsummer Night's Dream, though as he admitted at the time, he had always admired the original play and was excited by the various levels of action between the different groups of characters. As with The Turn of the Screw, these groups are characterised by strongly differentiated colours: the bright, percussive sounds of harps, keyboards and percussion for the fairy world, warm strings and wind for the the pairs of lovers, and lower woodwind and brass for the mechanicals. The opera is completely faithful to the spirit of the original and must be counted as one of the most successful operatic adaptations of a Shakespeare play. It is possibly the most beguiling and enchanting of all Britten's operas, a work with a spellbinding atmosphere that inhabits a truly unique dreamlike world.
Reproduced by kind permission of the Britten-Pears Library
Moods
heiter, poetisch, romantisch
Subjects
Recommended Recording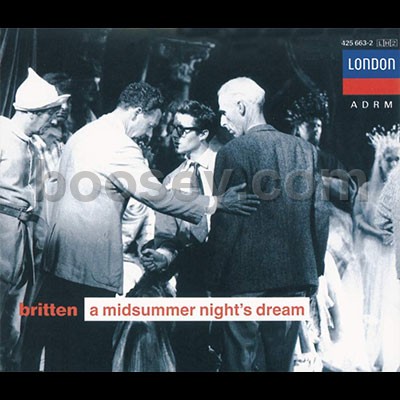 Brian Asawa/Sylvia McNair/John Mark Ainsley/Paul Whelan/Janice Watson/Robert Lloyd/Gwynne Howell/Ian Bostridge/London Symphony Orchestra/New London Children's Choir/Colin Davis
Philips 4541222
Click here to purchase this CD set from Amazon
Alfred Deller/Elizabeth Harwood/Peter Pears/Thomas Hemsley/Josephine Veasey/Heather Harper/John Shirley-Quirk/Helen Watts/Owen Brannigan/Robert Tear/London Symphony Orchestra/Benjamin Britten
Decca 4256632
Click here to purchase this CD set from Amazon