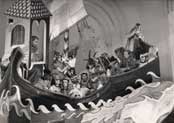 Photo: Camera Press
Britten, Benjamin
The Chester Miracle Play set to music by Britten, for adults' and children's voices, children's chorus, chamber ensemble and children's orchestra
Duration: 50 minutes
Music Text
The text is from 'English Miracle Plays, Moralities and Interludes' (E,F,G,I,Pt,S)
Scoring
A,BBar,speaker; children's roles: 3Tr,3S,chorus
professional orchestra:treble recorder-pft(4hands)-org-timp-string quintet; amateur/children's orchestra: recorder band-bugles-perc:hand-bells/BD/TD/SD/tamb/cyms/tgl/whip/gong/Chin.bl/wind machine/sandpaper/slung mugs-strings
Abbreviations (PDF)
Publisher
Boosey & Hawkes
Territory
This work is available from Boosey & Hawkes der ganzen Welt.
Uraufführung
6/18/1958
Orford Church, Aldeburgh Festival
Colin Graham, Regisseur
Conductor: Charles Mackerras
Company: Snape Maltings
Roles
| | |
| --- | --- |
| Die Stimme Gottes | Sprechrolle |
| NOAH | Baßbariton |
| Noahs Frau | Alt |
| SEM, HAM und JAPHET | Knabensoprane |
| Ihre Frauen | Mädchensoprane |
| Klatschbasen | Mädchensoprane |
| Chor der Tiere und Vögel | Kinder (SATB) |
| Die Gemeinde | |
Synopsis


Nachdem die Gemeinde den Choral "Lord Jesus, think on me" (Herr Jesus, denk an mich) gesungen hat, ist die Stimme Gottes zu hören. Er warnt Noah, dass er beschlossen habe, die sündige Menschheit und alles, was lebt, zu zerstören – außer Noah und seiner Familie. Daher sollen sie ein Schiff nach Gottes Anweisungen bauen. Noah und seine Familie beginnen mit der Arbeit – alle bis auf seine Frau, die sich statt dessen mit ihren Freundinnen zum Trinken hingesetzt hat. Inzwischen sammelt Noah getreu nach Anweisung von jeder Tierart zwei Exemplare ein, die auch brav das Schiff betreten. Da Noahs Frau sich auch weiterhin weigert, mit auf das Schiff zu kommen, tragen ihre Söhne sie an Bord – gerade noch rechtzeitig, ehe sie wie ihre immer weiter plappernden Freundinnen hinweggeschwemmt wird. Auf dem Höhepunkt der Flut singen alle den Choral "Eternal Father, strong to save" (Ewiger Vater, deine Stärke errettet uns).

Nach vierzig Tagen schickt Noah einen Raben auf die Suche nach trockenem Land, doch er kommt nicht zurück. Dann schickt er eine Taube los, die mit einem Olivenzweig im Schnabel zurückkommt – ein Zeichen des Friedens zwischen Gott und den Menschen. Als Noah und die anderen Passagiere von Bord gehen, lässt Gott einen Regenbogen am Himmel erscheinen, als Zeichen dafür, dass die Erde niemals wieder überflutet werden soll. Alle singen den Choral "The spacious firmament on high" (Das weite Firmament dort droben).
Repertoire Note
Noye's Fludde, completed in December 1957 and first performed during the 1958 Aldeburgh Festival, is his most extended and elaborate work for children. In common with Saint Nicolas and The Little Sweep, the work is written in such as way as to combine professional and amateur performers, the music often tailored to take account of the abilities of less accomplished players but without any sense of compromise or writing down. Most of the main vocal parts are written for children (the exceptions being Noye himself, Noye's wife and the Voice of God) and the orchestral forces comprise strings, recorders, bugles, handbells and a large assortment of percussion including such home-made instruments as sandpaper blocks and slung mugs. The congregation also gets the opportunity to participate in three hymn-settings, 'Lord Jesus, think on me', 'Eternal Father, strong to save' and 'The spacious firmament'.
Britten's unerring skill in seamlessly integrating these various elements with musical invention of a consistently high quality is undoubtedly one of his finest achievements while the church setting and general method of presentation clearly point the way forward to the 'Church Parables' of the 1960s.
Reproduced by kind permission of the Britten-Pears Library
Subjects
Recommended Recording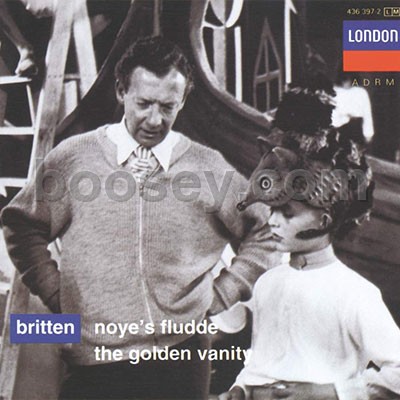 Owen Brannigan/Sheila Rex/David Pinto/Darien Angadi/Stephen Alexander/Trevor Anthony/Caroline Clack/Marie-Thérèse Pinto/Eileen O'Donovan/English Opera Group Orchestra/Norman Del Mar
Decca 436 3972