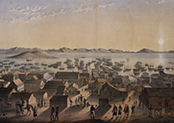 Photo:
Adams, John
Girls of the Golden West
(2017)
Opera
Duration: 160 minutes
Music Text
Libretto von Peter Sellars auf Grundlage originaler Quellen (engl.)
Scoring
hS.S.M.3T.Bar. Male 4tet, Men's Chorus, dancer,
3(=picc).3(=corA).3(=Ebcl, bcl).3(=dbn)-4.3.3.1-perc(2)-pft-accordion-gtr-strings(12.9.7.7.5)
Sound Design as detailed by Mark Grey
Abbreviations (PDF)
Publisher
Boosey & Hawkes (Hendon Music)
Territory
This work is available from Boosey & Hawkes der ganzen Welt.
Uraufführung
11/21/2017
War Memorial Opera House, San Francisco, CA
Peter Sellars, director/librettist
Conductor: Grant Gershon
Company: San Francisco Opera
Moods
dramatisch, tragisch
Subjects