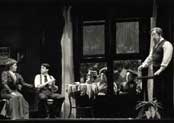 Photo: George Hixson
Floyd, Carlisle
A musical play in three acts
Duration: 190 minutes
Music Text
Libretto by the composer, based on the novel by Olive Anne Burns (E)
Scoring
2S,2M,2T,Bar,Bbar; chorus (SATB)
2(II=picc).2(II=corA).2(II=bcl).2(II=dbn)-4.2.2.1-timp.perc(3):xyl/vib/glsp/chimes/SD/TD/BD/gong/susp.cym/crash cym/gong/ant.cym/tgl/tamb/wdbl/bell tree/whip-pft(=cel)-harp-strings
Abbreviations (PDF)
Publisher
Boosey & Hawkes
Territory
This work is available from Boosey & Hawkes for the world.
World Premiere
4/14/2000
Wortham Center, Houston, Texas
Dean Peterson/Patricia Racette/John McVeigh/Bruce Beresford, director/Michael Yeargan, designer
Conductor: Patrick Summers
Company: Houston Grand Opera
Roles
| | |
| --- | --- |
| Effie Belle Tate | Mezzo |
| Thelma Predmore | Mezzo |
| Myrtis | Soprano |
| Mayor | Tenor |
| Sheriff | Baritone |
| Will Tweedy | Tenor |
| Rucker Lattimore | Bass-Baritone |
| Mary Willis Tweedy | Soprano |
| Loma Williams | Mezzo |
| Hosie McClendon | Baritone |
| Buforc | Tenor |
| Lightfoot McClendon | Soprano |
| Camp Williams | Tenor |
| Love Simpson | Soprano |
| Buford | Tenor |
| Clayton McAllister | Baritone |
| Dr. Lomax | Bass |
| People of Cold Sassy Tree | Chorus |
| | |
Time and Place
1900, Cold Sassy Tree, Georgia
Synopsis
It is 1900.  The citizens of Cold Sassy Tree, a small town in rural Georgia, are outraged when Rucker Lattimore, the recently widowed proprietor of the General Store, announces his intention to marry Love Simpson, a "Yankee" milliner half his age.  Lattimore's two grown daughters strongly disapprove.  Miss Love explains to them the "marriage arrangement:" she will cook and clean in return for the deed to the house and its furnishings.  Meanwhile, Lattimore's grandson, Will Tweedy, befriends a classmate, Lightfoot McLendon, from the "wrong side of the tracks."  The citizens of Cold Sassy Tree shun the new Mrs. Lattimore at church.  Rucker responds by conducting an impromptu service in his parlor for Will, Love and himself.  Rucker and Love grow closer, as do Will and Lightfoot.  Love reveals to Rucker that as a young girl she was violated and considers herself "damaged goods;" Rucker tenderly proposes that she become his wife in every sense of the word.  Rucker is shot in a botched robbery attempt.  At his funeral party, Love announces that she is pregnant with his child.  At first, many are shocked, but they finally unite to congratulate her and celebrate the legacy of Rucker Lattimore.
Subjects
Relationships, Society