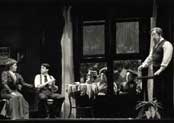 Photo: George Hixson
Floyd, Carlisle
A musical play in three acts
Duration: 190 minutes
Music Text
Libretto by the composer, based on the novel by Olive Anne Burns (E)
Scoring
2S,2M,2T,Bar,Bbar; chorus (SATB)
2(II=picc).2(II=corA).2(II=bcl).2(II=dbn)-4.2.2.1-timp.perc(3):xyl/vib/glsp/chimes/SD/TD/BD/gong/susp.cym/crash cym/gong/ant.cym/tgl/tamb/wdbl/bell tree/whip-pft(=cel)-harp-strings
Abbreviations (PDF)
Publisher
Boosey & Hawkes
Territory
This work is available from Boosey & Hawkes for the world.
Availability
World Premiere
4/14/2000
Wortham Center, Houston, Texas
Dean Peterson/Patricia Racette/John McVeigh/Bruce Beresford, director/Michael Yeargan, designer
Conductor: Patrick Summers
Company: Houston Grand Opera
Roles
| | |
| --- | --- |
| Effie Belle Tate | Mezzo |
| Thelma Predmore | Mezzo |
| Myrtis | Soprano |
| Mayor | Tenor |
| Sheriff | Baritone |
| Will Tweedy | Tenor |
| Rucker Lattimore | Bass-Baritone |
| Mary Willis Tweedy | Soprano |
| Loma Williams | Mezzo |
| Hosie McClendon | Baritone |
| Buforc | Tenor |
| Lightfoot McClendon | Soprano |
| Camp Williams | Tenor |
| Love Simpson | Soprano |
| Buford | Tenor |
| Clayton McAllister | Baritone |
| Dr. Lomax | Bass |
| People of Cold Sassy Tree | Chorus |
Time and Place
1900, Cold Sassy Tree, Georgia
Synopsis
Rucker Lattimore, proprietor of the general store, announces he intends to marry his employee Love Simpson. He explains the marriage will actually be a "business arrangement": Love will cook and clean in exchange for the house and its furnishings. Rucker's grown daughters, Mary Willis Tweedy and Loma Williams, are aghast—Rucker has buried his wife, their mother, just three weeks before, and Love is half his age. Only Rucker's grandson, Will Tweedy, is happy about the impending marriage.
Soon after Rucker's marriage to Love, he asks Will to accompany her to church, hoping to show the town the family has accepted her. But the congregation shuns her, and Will and Love leave the service defiantly. Rucker responds by setting up a makeshift church in his parlor and preaching his own sermon, creating further public outrage.
Much to Mary Willis and Loma's displeasure, Love's presence brings about many changes: she redecorates the house and Rucker shaves his beard and mustache. One day a Texas rancher comes to see Love—her former fiancé, Clayton McAllister—but she sends him away. In private, Rucker offers to step aside if Love is still interested in Clayton, but she tells him the relationship is over.
While Love is away on a buying trip for the general store, Rucker equips their house with electricity and plumbing. She is surprised and delighted, and Rucker confesses he has loved her from the moment he saw her. He tries to kiss her, but she shies away. She reveals that she was violated as a young girl; when she told Clayton about it, he ended their engagement. Rather than rejecting her, Rucker tenderly proposes that she become his wife in every sense of the word.
At the store, Love uses her artistry as a milliner to win over the town gossips. As Rucker closes the store for the day, he is critically wounded in a robbery attempt. Love desperately tries to tell the dying Rucker that she is expecting his child.
Will carries out his grandfather's final wishes, which include a funeral party in the town square. Love discloses to the townspeople that Rucker is to be a father again and most of the townspeople are won over at last. Love and the other members of Rucker's family, finally united, receive the congratulations of the crowd and celebrate Rucker's legacy.
Subjects
Links