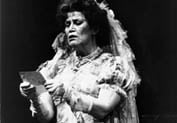 Photo: Courtesy The Minnesota Opera
World Premiere, The Minnesota Opera, May 1st, 1981. Philip Brunelle, Conductor. Miss Havisham: Rita Shane.
Argento, Dominick
Miss Havisham's Wedding Night (1979)
Duration: 30 minutes
Opera monodrama in one act
Libretto by John Olon-Scrymgeour, based on the character from 'Great Expectations' by Charles Dickens (E)
Scoring
colS,2mimes
1.1.1.1-1.1.0.1-timp.perc(1):t.bells/tam-t/tpl.bl/tamb/SD/BD/tgl/
cyms/susp.cyms/glsp/wdbl/wind chimes-harp-organ-pft(=cel)-
strings (1.1.1.1.1)
Abbreviations (PDF)
Uraufführung
5/1/1981
Tyrone Guthrie Theater, Minneapolis, Minnesota
H. Wesley Balk, Regisseur
Conductor: Philip Brunelle
Company: Minnesota Opera
Roles
| | |
| --- | --- |
| AURELIA HAVISHAM, eine ältere Einsiedlerin | Sopran |
| Estella, ein schönes Mädchen | stumm |
| Eine Kammerdienerin | stumm |
Time and Place
Satis House, Essex, England, im 19. Jahrhundert
Synopsis


Dieses Monodram – ein musikalischer Monolog von Dickens' Figur Miss Havisham – spielt bei Nacht, in einem lange unberührt gebliebenen Raum. Hier hatte sich Miss Havisham vor fünfzig Jahren, an ihrem Hochzeitstag, für ihre Trauung zurecht gemacht, als eine Nachricht von ihrem Bräutigam eintraf, in der er ihr den Laufpass gab. Sie zerbrach die Uhren, verdeckte die Fenster und schwor sich, niemals ihr Haus zu verlassen oder ihr Brautkleid auszuziehen; nur ein Schuh fehlte, den sie noch nicht angezogen hatte, als sie die Nachricht bekam.

Viele Jahre später durchlebt Miss Havisham den fatalen Tag noch einmal, spielt alles nach, was damals passiert ist; anscheinend tut sie dies schon eine ganze Zeit lang immer wieder. Sie stellt sich den Besuch ihres Verlobten vor und fragt sich, wie ihr Leben wohl ausgesehen hätte, wenn sich das Verhältnis anders entwickelt hätte. Die Kammerdienerin unterbricht sie und bringt ihr den Morgentee. Als der Vorhang fällt, beschließt Miss Havisham, der jungen Estella alles über Männer zu erzählen.
Moods
dramatisch, tragisch
Subjects
Gesellschaft, Literatur
Recommended Recording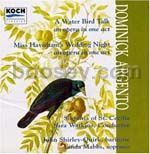 Linda Mabbs, Sinfonia of St Cecilia, Sara Watkins
Koch International Classics 7388