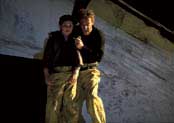 Photo: Bill Rafferty
Britten, Benjamin
Opera in three acts and a prologue
Duration: 147 minutes
Music Text
Libretto by Montagu Slater, derived from a poem by George Crabbe (E,Bg,Cz,Dn,F,Fl,Fn,G,H,I,J,P,Sc)
Scoring
Major roles: S,A,T,Bar; minor roles: 2S,M,2T,Bar,2B,2mimes; chorus
2(=picc).2(II=corA).2(II=Ebcl).2.dbn-4.2.Dtpt.3.1-timp.perc(2):SD/TD/
BD/tamb/tgl/cyms/gong/whip/xyl/rattle-cel-harp-strings
Off-stage:organ-bells-tuba*
Dance band on-stage*:2cl-perc:cym/SD/BD-pft(ad lib)-vln.db
(*taken from the orchestra)
Abbreviations (PDF)
Publisher
Boosey & Hawkes
Territory
This work is available from Boosey & Hawkes in der ganzen Welt.
Availability
Uraufführung
6/7/1945
Sadler's Wells, London
Eric Crozier, Regisseur
Conductor: Reginald Goodall
Company: Sadler's Wells Opera
Roles
| | |
| --- | --- |
| PETER GRIMES, ein Fischer | Tenor |
| Junge (JOHN), sein Lehrling | Stumme Rolle |
| ELLEN ORFORD, eine Witwe, Schulmeisterin von The Borough | Sopran |
| CAPTAIN BALSTRODE, pensionierter Kapitän eines Handelsschiffs | Bariton |
| AUNTIE, Wirtin des Wirtshauses "Zum Hai" | Alt |
| Zwei Nichten, Hauptattraktionen im "Hai" | Soprane |
| SWALLOW, Anwalt | Baß |
| BOB BOLES, Fischer und Methodist | Tenor |
| Mrs. (NABOB) SEDLEY, Rentnerin, Witwe eines Kommissionärs der East India Company | Mezzosopran |
| Rev. HORACE ADAMS, Pfarrer | Tenor |
| NED KEENE, Apotheker und Quacksalber | Bariton |
| HOBSON, Fuhrmann | Baß |
| Dr. CRABBE | Stumme Rolle |
| Dorfbewohner und Fischersleute | |
Time and Place
The Borough, ein Fischerstädtchen an der Ostküste Anglias, gegen 1830
Synopsis
Bei der Untersuchung des Todes von William Spode, Lehrling des Fischers Peter Grimes, verhört der Coroner Swallow einige Zeugen, darunter auch Grimes. Die Diagnose eines zufälligen Todes befriedigt die meisten Bewohner des Städtchens nicht; für sie ist Grimes ein brutaler Verbrecher. Die Schulmeisterin Ellen Orford holt Grimes einen neuen Lehrling aus dem Armenhaus. Abends im Wirtshaus zeigt sich Grimes mit ihm, die Bewohner des Städtchens stehen Grimes in offener Feindschaft gegenüber.
Ellen freundet sich mit John, dem neuen Jungen, an, ist jedoch entsetzt, als sie an seinem Körper Spuren von Misshandlung entdeckt. Als sie Peter damit konfrontiert, bekommt sie Schläge von ihm. Während die Gastwirtin Auntie und ihre beiden übel beleumundeten Nichten Mitgefühl äußern, marschiert eine Delegation von Männern aus dem Städtchen zu Grimes' Hütte, um ihn zur Rede zu stellen. Die Hütte ist leer – Minuten zuvor ist der neue Lehrling die Klippe hinunter in den Tod gestürzt, und Grimes ist ihm hinterhergeklettert.
Grimes ist vom Erdboden verschwunden, und die Klatschtante des Städtchens, Mrs. Sedley hetzt die ehrenwerten Herrschaften mit ihren Gerüchten weiter auf. Diesmal ist der gesamte Ort (außer Ellen und dem pensionierten Kapitän Balstrode) bei der Menschenjagd mit dabei. Während man nach ihm sucht, kreuzt Grimes, völlig durcheinander von seinen Erlebnissen, am Strand auf; er wird von Balstrode aufs Meer geschickt und versenkt sein Boot und sich selbst in den Fluten. Als das Städtchen am folgenden Morgen erwacht, nimmt niemand das Gerücht, ein Schiff sei gesunken, ernst.
Repertoire Note
In 1942, Britten, then living in America, came across an article by the novelist E.M.Forster on the Suffolk poet George Crabbe, an encounter that was a decisive factor in Britten's resolve to return to England for good. It was Crabbe's poem 'The Borough' which subsequently served as the basis for Britten's first full-scale opera, Peter Grimes, the work that launched him internationally as the leading British composer of his generation and which almost single-handedly effected the renaissance of English opera.
The composer's self-avowed aim in the opera was 'to express my awareness of the perpetual struggle of men and women whose livelihood depends on the sea' and anyone who has visited the coastline around the composer's home town of Aldeburgh will recognize the uncanny certainty with which Britten has captured that land- and seascape in Peter Grimes. Perhaps more importantly, the opera also introduces many of the fundamental dramatic themes which characterise Britten's entire operatic output: the individual against the mass, and the corruption of innocence.
Reproduced by kind permission of the Britten-Pears Library
Moods
dramatisch, poetisch, tragisch
Subjects
Recommended Recording
Links