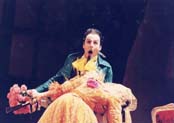 Photo: Opera North / Donald Cooper
Gerhard, Roberto
The Duenna
(La Dueña)
(1945-49)
Opera in three acts
Duration: 130 minutes
Music Text
Libretto by the composer and Christopher Hassall after Richard Brinsley Sheridan's comedy (E,G). Performing Edition (1991) by David Drew.
Scoring
Major roles: S,2M,2T,2Bar,B; small roles: T,B,3speakers;
chorus; dancers
2.picc.2.corA.2.bcl.2-4.2.2.euph.1-timp.perc(3):xyl/cast/rattle/
3Chin.tom-t/Korean tpl.bl/tamb/SD/BD/cyms/2susp.cyms/tam-t-
cel-harp-strings
Abbreviations (PDF)
Publisher
Boosey & Hawkes
Territory
This work is available from Boosey & Hawkes in der ganzen Welt.
Availability
Bühnen-Erstaufführung
1/21/1992
Teatro Lirico Nacional, Madrid
Felicity Palmer, David Rendall, Anthony Michaels-Moore, Richard van Allan, Dir: Jose-Carlos Plaza
Conductor: Antoni Ros Marba
Company: Madrid Opera
Roles
| | |
| --- | --- |
| DON JEROME, ein Adliger aus Sevilla | Baß |
| SON FERDINAND, sein Sohn, in Donna Clara verliebt | Bariton |
| DONNA LUISA, seine Tochter | Sopran |
| Ihre Anstandsdame, die DUENA | Mezzosopran |
| DON ANTONIO, in Donna Luisa verliebt | Tenor |
| DONNA CLARA D'ALMANZA | Mezzosopran |
| DON ISAAC, Don Isaac, ein portugiesischer Jude, Don Jeromes Wunsch-Schwiegersohn | Bariton |
| VATER PAUL | Tenor |
| Lopez, Diener in Don Jeromes Haus | Sprechrolle |
| Don Antonios Diener | Sprechrolle |
| Donna Luisas Dienstmädchen | Sprechrolle |
| Eine Zigeunerin | Sopran |
| Die Brüder der tödlichen Sünde | Tenor / Bariton |
| Damen und Herren aus der schicken Gesellschaft, Städter, Bettler | Chor SATB |
| Eine Hure, ein Kavalier, eine Kupplerin, 2 Stutzer, Mönche, eine Dirne, | Rollen ohne Gesang |
| der Kardinal und einige Priester, die Dame in der Sänfte, Tänzer und Spieler, Zigeunerkinder | |
Time and Place
Sevilla, 18. Jahrhundert, zwischen Morgendämmerung und Abend
Synopsis
Don Jerome, ein Kaufmann aus Sevilla, möchte seine Tochter Luisa mit Don Isaac verheiraten, einem wohlhabenden, aber wenig anziehenen portugiesischen Juden. Ihre wahre Liebe, den abgebrannten Don Antonio, hat er fortgeschickt. Inzwischen hat sich Donna Clara, in die Luisas Bruder Ferdinand verliebt ist, aus dem Staub gemacht, um nicht von ihrer tyrannischen Stiefmutter in ein Kloster gesperrt zu werden. Gemeinsam mit ihrer furchteinflößenden Dueña legt Luisa Don Jerome herein: Die beiden tauschen ihre Kleider und bewegen ihn dazu, die vermeintliche Dueña wegzuschicken und "Luisa" einzusperren. So kann die wahre Luisa sich frei auf die Suche nach ihrem Antonio machen und die Dueña ihr Glück mit dem armen Isaac versuchen und ihn bezaubern und betören.
Auf der Suche nach Antonio trifft Luisa zunächst die entflohene Clara. Anschließend begegnet sie Isaac und (er hat sie noch nie zuvor gesehen) versichert sich seiner Hilfe, indem sie vorgibt, sie sei Clara und in Antonio verliebt. Isaac, der die Chance wittert, seinen Rivalen loszuwerden, erklärt sich bereit, Antonio zu ihr zu bringen. Seine eigenen Bemühungen um die hässliche "Luisa" (die verkleidete Dueña) nehmen eine gute Wendung, denn sie teilt ihm mit, sie werde ihn nur heiraten, wenn er mit ihr durchbrennt: Er freut sich, auf diese Weise eine teure Hochzeit vermeiden zu können. Als er "Clara" (also Luisa) in seiner Wohnung untergebracht hat, führt er Antonio zu ihr und ist überglücklich, dass er endlich "Luisa" (die Dueña) haben kann.
In Gefahr gerät das Ganze, als Ferdinand glaubt, seine Freund Antonio spanne ihm seine geliebte Clara aus. Am Ende jedoch werden beide Paare in einem Kloster verheiratet, die Dueña bekommt Isaac und alle Intrigen werden im Haus des gründlich hinters Licht geführten Don Jerome aufgedeckt und gefeiert.
Moods
heiter, poetisch, romantisch
Subjects
Recommended Recording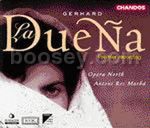 Claire Powell/Neill Archer/Richard van Allan/Adrian Clarke/Eric Roberts/Susannah Glanville/Opera North/English Northern Philharmonia/Antoni Ros Marbà
Chandos CHAN 9520
Links