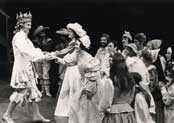 Photo: Crucible Theater
Argento, Dominick
The Shoemakers' Holiday
(1967)
Ballad-Opera based on the play by Thomas Dekker
Duration: 150 minutes
Music Text
Adaptation and additional lyrics by John Olon-Scrymgeour (E)
Scoring
Major roles: 2S,M,A,T(or B),Bar,Bar(or B),2BBar,B
minor roles: M,A,2T,2Bar,2B; chorus
1(=picc,afl).0.1.1-1.2.1.0-gtr(amplified)-perc(1):timp/tgl/SD/cym/
glsp/t.bells/tamb/ratchet/susp.cym/wdbl
Abbreviations (PDF)
Publisher
Boosey & Hawkes
Territory
This work is available from Boosey & Hawkes in der ganzen Welt.
Availability
Uraufführung
6/1/1967
Tyrone Guthrie Theater, Minneapolis, Minnesota
Douglas Campbell and John Olon-Scrymgeour, Regisseur
Conductor: Herbert Pilhofer
Company: Minnesota Theatre Company
Roles
| | |
| --- | --- |
| SIMON EYRE | Bassbariton |
| ROLAND LACY | Bariton oder Tenor |
| RALPH | Bariton |
| FIRK | Baßbariton |
| HAMMON | Baß oder Bariton |
| HODGE | Baß |
| ROSE | Sopran |
| MARGERY | Sopran |
| JANE | Mezzosopran |
| SYBIL | Alt |
| Vier Händler | Tenor, Bariton, Bariton und Bass |
| Drei Männer | Tenor, Bariton und Bass |
| Zwei Näherinnen | Mezzosopran und Alt |
| Soldaten, Schuhmacher und Jäger | Tenöre, Baritone und Bässe |
Time and Place
England, in der Renaissance (15. Jahrhundert)
Synopsis


Roland Lacy, Neffe des Earl of Lincoln, ist in Rose verliebt, die Tochter des Oberbürgermeisters von London. Damit sich die Beziehung gar nicht erst entwickelt, versucht der Earl den jungen Mann als Colonel in den Krieg zu schicken. Er erhält eine Vollmacht des Königs und hofft, dass Lacy sich als Edelmann erweist. Sir Roger, der Oberbürgermeister, ist ebenfalls gegen das Verbindung und schickt seine Tochter aus London fort. Lacy gibt seinen Auftrag in der Armee auf, verkleidet sich als holländischer Schuster Hans und lässt sich im Haus von Simon Eyre nieder, des Schusters des Bürgermeisters.

Durch sein Netz von Spionen erfährt Lacys Onkel, dass sein Neffe in London geblieben ist. Eines Tages bringt Simon Eyre große Neuigkeiten mit nach Hause: Er ist Oberbürgermeister von London geworden. Mit Hilfe von Simon und seiner Frau planen Lacy und Rose ihre Hochzeit. Die Fastnachtsfeierlichkeiten beginnen, werden jedoch bald von einem Besuch des Königs, gefolgt von Lincoln und Sir Roger, unterbrochen. Der König billigt die Hochzeit von Lacy und Rose; Lacy fällt auf die Knie und wird zum Ritter geschlagen. Roses Vater und Lacys Onkel finden sich mit der Entscheidung ab.
Subjects
Links