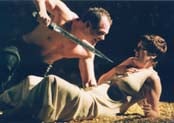 Photo: Bill Rafferty
Britten, Benjamin
The Rape of Lucretia
(1946, rev.1947)
Opera in two acts
Duration: 107 minutes
Music Text
Libretto by Ronald Duncan, after the play by André Obey (E,Cz,Fl,G,I,S,Sc)
Scoring
2S,M,A,T,2Bar,B
1(=picc,afl).1(=corA).1(=bcl).1-1.0.0.0-perc(1):timp/susp.cym/gong/
BD/TD/SD/tgl/whip/tamb-harp-pft(=conductor)-strings (1.1.1.1.1)
Abbreviations (PDF)
Publisher
Boosey & Hawkes
Territory
This work is available from Boosey & Hawkes in der ganzen Welt.
Availability
Uraufführung
7/12/1946
Glyndebourne
Eric Crozier, Regisseur
Conductor: Ernest Ansermet
Company: Glyndebourne Festival Opera
Roles
| | |
| --- | --- |
| CHOR (männlich) | Tenor |
| CHOR (weiblich) | Sopran |
| COLLATINUS, ein römischer General | Baß |
| JUNIUS, ein römischer General | Bariton |
| PRINZ TARQUINIUS, Sohn des etruskischen Tyrannen Tarquinius Superbus | Bariton |
| LUCRETIA, Collatinus' Frau | Alt |
| BIANCA, Lucretias Amme | Mezzosopran |
| LUCIA, Lucretias Zimmermädchen | Sopran |
Time and Place
In oder bei Rom, 500 v. Chr.
Synopsis
Der Männer- und der Frauenchor schildern den historischen Hintergrund der Geschichte und machen dabei deutlich, dass ihre Sicht der Geschehnisse aus einer späteren, christlichen Zeit stammt. Die Handlung spielt in und bei Rom vor dem Ende der Herrschaft des Etruskerkönigs Tarquinius Superbus im Jahr 510 v. Chr. In einem Soldatenlager vor der Stadt sitzt Tarquinius' Sohn mit zwei Generälen zusammen, Collatinus und Junius. Sie trinken und sprechen über einer frühere, unselige Wette, in der man die Beständigkeit römischer Frauen auf die Probe stellte – sie hielt nicht sehr lange. Von den verheirateten Männern (Tarquinius besucht Bordelle) kann nur Collatinus von seiner Frau, Lucretia, sagen, dass sie in Abwesenheit ihres Mannes alleine schlief. Angetrieben von dem boshaften Junius beschließt Tarquinius, Lucretias Unschuld selbst zu prüfen und reitet nach Rom.
Dort ist man über sein Eintreffen bestürzt, doch bietet Lucretia ihm der Gastfreundschaft halber in ihrem Haus ein Zimmer für die Nacht an - trotz ihres und ihrer Diener Misstrauen. Es wird jedoch schnell klar, was Tarquinius im Sinn hat, als er Lucretia weckt und gewaltsam auf sie eindringt, ehe er das Haus wieder verlässt. Am folgenden Morgen gibt Lucretias spätes Erscheinen in verstörtem, gebrochenem Zustand ihrer Amme Bianca und ihrem Zimmermädchen Lucia Rätsel auf; man lässt nach ihrem Mann rufen. Collatinus trifft mit Junius ein und hört, was passiert ist. Obwohl er Lucretia zumindest teilweise versteht, ist ihr Schmerz über ihre eigene Schande zu groß und sie ersticht sich. Ihr Tod ist für die Römer Anlass, die Tarquinier aus der Stadt zu verbannen. Die beiden Chöre versuchen, das Geschehen von einem christlichen Standpunkt zu betrachten.
Repertoire Note
It was a combination of economic realities and aesthetic preferences that encouraged Britten to develop the concept of chamber opera, employing a small cast without chorus and an orchestra of just thirteen players. His first work in the new medium was The Rape of Lucretia, first performed just over a year after Peter Grimes, in 1946. There is, however, no loss of colour and atmosphere – indeed the pared-down textures produced an intensification of Britten's operatic vision which was to serve him further in Albert Herring and The Turn of the Screw.
With the roles of the Male and Female Chorus, who comment on the action 'out of time' (as in Greek tragedy) and the use of solo piano accompaniment to accompany recitative passages, Lucretia achieves a certain 'classical' poise and detachment. However, Lucretia and Tarquinius are flesh-and-blood characters driven by real human emotions and desires (Lucretia's music is surely some of Britten's most sheerly beautiful) and the resulting amalgam is an opera of great musico-dramatic power and expressive richness.
Reproduced by kind permission of the Britten-Pears Library
Moods
dramatisch, poetisch, tragisch
Subjects
Recommended Recording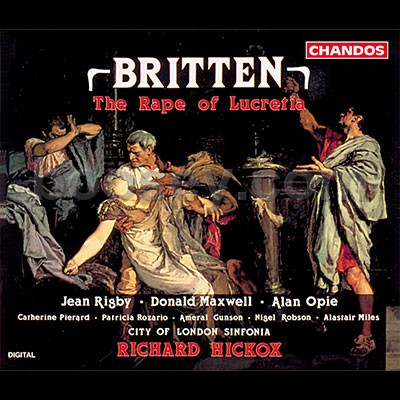 English National Opera / Lionel Friend
Arthaus DVD 102021
Click here to purchase this DVD from our online shop

Jean Rigby/Nigel Robson/Catherine Pierard/Donald Maxwell/Alastair Miles/Alan Opie/Patricia Rozario/Ameral Gunson/City of London Sinfonia/Richard Hickox
Chandos CHAN 9254
Links