Stravinsky, Igor
A musical play for solo voices, chorus, speakers and orchestra
Duration: 24 minutes
Music Text
Text: Book of Genesis, York and Chester Miracle plays (L-E,L-F,L-G)
Scoring
T,2B,7speakers; SAT chorus
3(III=picc).afl.2.corA.2.bcl.dbcl.2.dbn-4.3.2.btrbn.1-timp.perc:
xylorimba/3tom-t/cyms/BD-harp-cel(=pft)-strings
Abbreviations (PDF)
World Premiere
6/14/1962
CBS Television Network broadcast
George Balanchine, choreographer
Conductor: Robert Craft
Company: CBS Television Network
Roles
| | |
| --- | --- |
| LUCIFER | Tenor |
| GOD | 2 Basses |
| NARRATOR | Spoken role |
| NOAH | Spoken role |
| NOAH'S WIFE AND SONS | Spoken roles |
| CALLER | Spoken role |
| Chorus | SAT |
Synopsis
After a prelude and choral Te Deum, a speaking Narrator tells of God's creation of the Earth. God himself, sung by two bass voices, brings into being Adam and Eve and then Lucifer, who is swiftly expelled from Heaven to become Satan. In revenge, Satan tempts Eve who tempts Adam. To purge the world of this wickedness, God decides to send a flood. All living things will be destroyed except for Noah, who is told to build an ark and save himself and his family, as well as pairs of all living animals and birds. Noah builds the boat and takes his family, the animals and birds on board. Only his wife refuses to come into the ark until persuaded by the pleadings of her three sons. In anger, she boxes her husband's ears. After the swirling music of the flood, this short 'musical play' ends with The Covenant of the Rainbow. God promises to take care of Noah and his descendants, Noah promises his family will be true to God, Satan still vows revenge and finally God blesses Noah and his sons. A choral Sanctus leads back to the music of the opening.
Repertoire Note
Commissioned by CBS television, The Flood conflates the Creation with the story of Noah's ark. Stravinsky: "Why did I call my work The Flood, instead of Noah? Because Noah is mere history. As a genuine antediluvian he is a great curiosity, but a sideshow curiosity. And even as 'eternal man,' the second Adam, the – to Augustinians – Old Testament Christ image, he is less important than the Eternal Catastrophe. The Flood is also The Bomb." God, impressively strange, is sung by two basses, Lucifer by a tenor; there is also a Caller (for the animal parade) and a Narrator. Stravinsky called the "musical speed" of The Flood "cinematographic;" writing for television, he eagerly dispensed with "the afflatus of overtures, connecting episodes, curtain music."
Reproduction Rights
This programme note can be reproduced free of charge in concert programmes with a credit to Boosey & Hawkes/Joseph Horowitz.
Subjects
Environment, Religion
Recommended Recording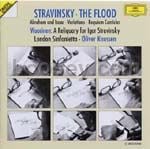 Peter Hall, David Wilson-Johnson, Stephen Richardson, Michael Berkeley, Bernard Jacobson, Lucy Shelton, London Sinfonietta, Oliver Knussen
Deutsche Grammophon E4470682