Photo: Marilyn Kingwill
The Opera Group, UK, 2003.
Bernstein, Leonard
Candide (Scottish Opera version) (1988)
Duration: 145 minutes
Comic operetta in two acts (adaption of New York City Opera House version by Mauceri, Miller and Wells)
Buch von Hugh Wheeler nach Voltaire. Gesangstexte von Richard Wilbur, Stephen Sondheim, John La Touche, Lillian Hellman, Dorothy Parker und Leonard Bernstein; dt. Übersetzung von Stephan Kopf, Zelma und Michael Millard (engl., dt.)
Scoring
Major roles: S,2M,T,T/Bar,Bar; minor roles: 2S,4T,6Bar,2B; chorus
2(II=picc).1(=corA).2(I=Ebcl,ssax ad lib).1-2.2.2.1-timp.perc(2):SD/
TD/BD/tamb/bongos/maracas/hand drs/tgl/susp.cym/cyms/tam-t/cast/
wdbls/gourd/xyl/glsp/vib/chimes-
harp-strings
Abbreviations (PDF)
Erstaufführung der Fassung
5/17/1988
Theatre Royal, Glasgow
Jonathan Miller, Regisseur
Conductor: John Mauceri
Company: Scottish Opera
Roles
| | |
| --- | --- |
| CANDIDE | Tenor |
| MAXIMILIAN | Bariton |
| Kapitän | Bariton |
| Gouverneur | Tenor |
| VOLTAIRE | Bariton oder Tenor |
| PANGLOSS | Bariton oder Tenor |
| MARTIN | Bariton oder Tenor |
| CACAMBO | Bariton oder Tenor |
| KUNIGUNDE | Sopran |
| DIE ALTE DAME | Mezzosopran |
| PAQUETTE | Sopran |
| VANDERDENDUR | Tenor |
| Kosmetikhändler | Hoher Tenor oder Alt |
| Doktor | Tenor |
| Bärenführer | Tenor |
| Alchimist | Tenor |
| Trödler | Bariton |
| Señor I | Tenor |
| Inquisitor I/Richter | Tenor |
| Inquisitor II/ Richter | Bariton |
| Inquisitor III/ Richter | Baßbariton |
| Sultan Achmed | Tenor |
| Hermann Augustus | Hoher Bariton |
| Charles Edward | Tenor |
| Ragotzki | Tenor |
| Zar Iwan | Baßbariton |
| Gauner | Tenor |
| Croupier | Tenor |
| Señor II | Tenor |
Synopsis


Im Schloss von Baron Thunder-Ten-Tronck in Westfalen unterrichtet Dr. Pangloss vier Zöglinge nach seiner Philosophie, dass "in der bestmöglichen Welt alles zum Besten ausgeht": Die vier sind Kunigunde und Maximilian, die beiden schönen Nachkommen des Barons, außerdem Paquette, ein Dienstmädchen, sowie Candide, ein uneheliches Kind. Candide und Kunigunde verlieben sich ineinander. Sobald ihre Neigungen entdeckt werden, bekommt Candide beim Baron Hausverbot und wird zum Eintritt in die bulgarische Armee überlistet; als Soldat verwüstet er sein eigenes Vaterland.

Nach vielen unglücklichen Abenteuern landet Candide in Portugal, wo er Kunigunde findet – vergewaltigt und fast tot. Auch mit Pangloss, der mittleweile ein Bettler ist, trifft man wieder zusammen – vor der spanischen Inquisition werden sie vereint und verurteilt; Pangloss wird gehängt. Candide gelingt mit Hilfe der Alten Dame die Flucht mit Kunigunde, und sie machen sich auf eine qualvolle Reise in die Neue Welt. Dort treffen sie Maximilian (als Frau verkleidet) und Paquette, die von dem Gouverneur von Cartagena in Kolumbien als Konkubinen angekauft werden. Der Gouverneur verliebt sich in Maximilian und ist so angewidert, als er von seinem wirklichen Geschlecht erfährt, dass er ihn töten lassen will; stattdessen schickt er ihn jedoch in ein Kloster. Candide und Maximilian streiten um Kunigunde, dabei ersticht Candide Maximilian.

Nach weiteren Fährnissen und einer nochmaligen Trennung von seinen Freunden verlässt Candide schließlich die Neue Welt und macht sich auf die Rückreise über den Ozean. Da trifft er den wieder zu Leben erwachten Maximilian, Paquette, und am Ende sogar Kunigunde, die inzwischen als Prostitutierte in einem Spielkasino arbeitet. Gänzlich mittellos besuchen die vier einen weisen Mann, der sich als Pangloss entpuppt – er hat seine Hinrichtung überlebt. Ihr alter Lehrer erläutet den Vieren seine neu gefundene Weisheit: Der Mensch muss "von morgens bis abends arbeiten, auf dem Feld, und geduldig lernen seinen Garten zu bestellen".
Subjects
Ethik, Geschichte, Gesellschaft, Literatur
Recommended Recording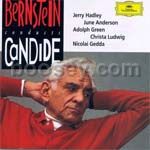 Jerry Hadley, June Anderson, Adolph Green, Christa Ludwig, Nicolai Gedda, Della Jones, Kurt Ollmann, Clive Bayley, London Symphony Chorus, London Symphony Orchestra, Leonard Bernstein
Deutsche Grammophon 429 734-2