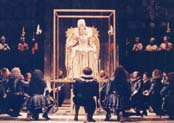 Photo: Opera North / Stephen Vaughan
Britten, Benjamin
Gloriana
(1953, rev.1966)
Opera in three acts
Duration: 148 minutes
Music Text
Libretto by William Plomer after Lytton Strachey's 'Elizabeth and Essex' (E,G)
Scoring
Major roles: 2S,M,T,3Bar,B;
minor roles: S,M,2T,Bar,2B,mimes; chorus; ballet
3(II,III=picc).2.corA.2.bcl.2.dbn-4.3.3.1-timp.perc(4):glsp/t.bells/
gong/SD/TD/BD/cyms/whip/wdbl/tamb/tgl-harp-cel-strings
stage band: historical instruments
Abbreviations (PDF)
Publisher
Boosey & Hawkes
Territory
This work is available from Boosey & Hawkes in der ganzen Welt.
Uraufführung
6/8/1953
Royal Opera House, Covent Garden, London
Basil Coleman, director / John Cranko, choreographer
Conductor: John Pritchard
Company: Royal Opera, Covent Garden
Roles
| | |
| --- | --- |
| KÖNIGIN ELIZABETH DIE ERSTE | Sopran |
| ROBERT DEVEREUX, Graf von Essex | Tenor |
| FRANCES, Gräfin von Essex | Mezzosopran |
| CHARLES BLOUNT, Lord Mountjoy | Bariton |
| PENELOPE (LADY RICH), Essex' Schwester | Sopran |
| Sir ROBERT CECIL, Sekretär des Kronrats | Bariton |
| Sir WALTER RALEIGH, Gardehauptmann | Baß |
| HENRY CUFFE, Essex' Gefolgsmann | Bariton |
| Eine Hofdame | Sopran |
| Ein blinder Balladensänger | Baß |
| Der Stadtschreiber von Norwich | Baß |
| Eine Hausfrau | Mezzosopran |
| Der Geist des Maskenspiels | Tenor |
| Der Zeremonienmeister | Tenor |
| Der Stadtausrufer | Bariton |
| Bürger, Ehrendamen, Damen und Herren des Hofes, Maskenspieler, alte Männer | Chor |
| Zeit, Eintracht, Bauernmädchen, Bauernvolk, Fischer, Moriskentänzer | Tänzer |
| Pagen, Laufbursche der Balladensänger, Phantom der Königin | Schauspieler |
Time and Place
England, um 1600
Synopsis
Bei einem königlichen Tournier bricht der ehrgeizige Graf Essex einen Streit mit Lord Mountjoy vom Zaun und wird verwundet. Königin Elizabeths Strafe lautet: Von nun an sollen beide immer zusammen am Hof auftreten. Die beiden werden Freunde. Cecil warnt die Monarchin vor Essex' Ungehorsam und vor der möglichen Bedrohung durch eine spanische Armada. Essex versucht sich bei der Königin einzuschmeicheln und bittet sie, ihn zu ihrem Stellvertreter in Irland zu ernennen, um den Rebell Tyrone zu bezwingen. Elizabeth zögert, da sie sich ihrer Position als Herrscherin bewusst ist und seinem stürmischen Charakter misstraut.
In Norwich wird die Königin von den Bürgern willkommen geheißen und mit einem Maskenspiel über Zeit und Eintracht unterhalten. In Essex' Haus in London planen der Graf, seine Schwester Lady Rich und ihr Liebhaber Mountjoy ihre Machtergreifung; seine Frau mahnt zur Vorsicht. Am Hof besteht die Königin darauf, dass sich die Damen nach dem anstrengenden Tanz umziehen; als sie zurückkommt, trägt sie das prunkvolle Kleid von Essex' Frau, und beschämt sie solcherart. Essex schäumt vor Wut, wird aber besänftigt, als Elizabeth seine lang erwartete Ernennung ankündigt und ihn nach Irland schickt.
Essex' Feldzug scheitert, und nach seiner plötzlichen Rückkehr besteht er darauf, bei der Königin vorzusprechen, die sich gerade ankleidet. Er trifft eine alte Frau ohne Perücke und Schminke an. Er trägt sein Anliegen vor; sie ist jedoch nicht überzeugt und Cecil warnt sie vor seinen Umsturzplänen. In London gelingt es Essex' Anhängern nicht, die Leute für seine Rebellion zu gewinnen. Essex wird verurteilt, und eine Deputation mit seiner Frau, seiner Schwester und Mountjoy können ihn nicht mehr retten. Elizabeth unterzeichnet den Vollstreckungsbefehl. In der Schlussszene erinnert sich die sterbende Königin an die Prüfungen, denen sie während ihrer Regierungszeit ausgesetzt war.
Repertoire Note
'Dedicated by gracious permission to Her Majesty Queen Elizabeth II', Gloriana was completed in 1953 and first performed as part of that year's Coronation celebrations. The unjust critical furore surrounding the premiere has now passed into history and the work can be seen as a worthy successor to Billy Budd with which it shares a number of important features. However, the opera is unusual for Britten in that the three acts are generally made up of self-contained set-pieces, rather than the continuous narrative he normally prefers. Although there are scenes of ceremony and pageantry (as befits the occasion for which it was written), the work's dramatic core is the unfolding relationship between Elizabeth I and the Earl of Essex, the Queen torn between her private affection for the Earl and her sense of public duty when he is found guilty of treason and condemned to death.
The sound-world of the opera has an appropriately 'Elizabethan' atmosphere, the famous 'Choral' and 'Courtly Dances' evoking a period flavour without ever lapsing into pastiche. The opera has had a chequered history, but it now seems as though Gloriana has finally taken its rightful place in Britten's operatic oeuvre.
Reproduced by kind permission of the Britten-Pears Library
Moods
dramatisch, romantisch, tragisch
Subjects
Recommended Recording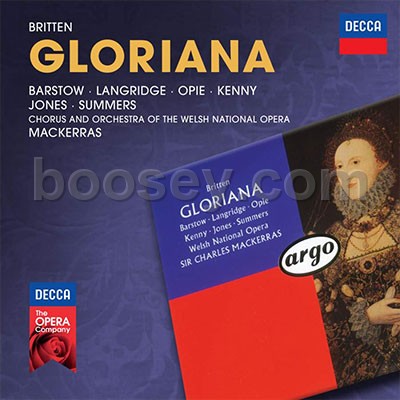 Josephine Barstow/Philip Langridge/Della Jones/Jonathan Summers/Alan Opie/Yvonne Kenny/Richard Van Allan/Bryn Terfel/Janice Watson/Willard White/John Shirley-Quirk/John Mark Ainsley/Peter Hoare/Welsh National Opera and Chorus/Charles Mackerras
Decca Argo 4402132