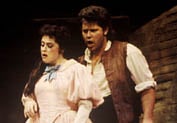 Photo: Richard Feldman
Floyd, Carlisle
Wuthering Heights
(1957-58)
A musical drama in a prologue and three acts
Duration: 130 minutes
Music Text
Libretto by the composer, after the novel by Emily Brontë (E)
Scoring
2S,M,4T,Bar,B; chorus
2(II=picc).2(II=corA).2(II=bcl).2-2.2.2.0-timp.perc(1):SD/cyms/
susp.cym/gong-harp-strings
Abbreviations (PDF)
Publisher
Boosey & Hawkes
Territory
This work is available from Boosey & Hawkes for the world.
Availability
World Premiere
7/16/1958
Sante Fe, New Mexico
Irving Guttman, director
Conductor: John Crosby
Company: Santa Fe Opera
Roles
| | |
| --- | --- |
| CATHERINE EARNSHAW (Cathy) | Soprano |
| HEATHCLIFF | Baritone |
| NELLY | Mezzo-Soprano |
| EDGAR LINTON | Tenor |
| ISABELLA LINTON | Soprano |
| HINDLEY EARNSHAW | Bass |
| MR. EARNSHAW | Bass |
| JOSEPH | Tenor |
| LOCKWOOD | Tenor |
| Servants | Silent |
| Party Guests | Mixed Chorus |
Time and Place
1835 (Prologue), 1817-1821; the moor country of northern England
Synopsis
Based on the Emily Brontë novel, Wuthering Heights tells of two remarkable characters, Cathy and Heathcliff, whose all-consuming love affair ultimately wreaks havoc not only on their lives, but on the lives of those around them.
Cathy and Heathcliff, childhood companions, fall in love. One day they are discovered spying on the house of a neighboring family, the Lintons. Cathy sprains her ankle and is forced to stay at the Lintons' home for a month. During that time she acquires grand airs; when she returns home, accompanied by Edgar and Isabella Linton, she is embarrassed to find Heathcliff dirty and unkempt. Heathcliff is hurt and throws tea at Edgar. For that he is beaten by Cathy's brother Hindley, and is later consoled by Cathy.
Cathy and Edgar become constant companions, and eventually are engaged. Yet Cathy still longs for Heathcliff, who has left Wuthering Heights. Three years later, Heathcliff returns a wealthy man of the world. In a card game, Hindley loses his last possession – Wuthering Heights – to Heathcliff. Heathcliff also makes advances towards Cathy; she refuses him, so he decides to marry Isabella, who is in love with him. As a result, Cathy decides she wants to die, and finally dies in Heathcliff's arms. Heathcliff asks the ghost of Cathy to haunt him forever.
Press Quotes
"Wuthering Heights has audience appeal... The music illustrates the events which take place around the classic scenes between the two lovers. The couple has everything which makes for great opera: a wealth of emotions, passion, poetry. And set in a continual vocal-dramatic high tension..."
Freie Presse
Subjects
Recommended Recording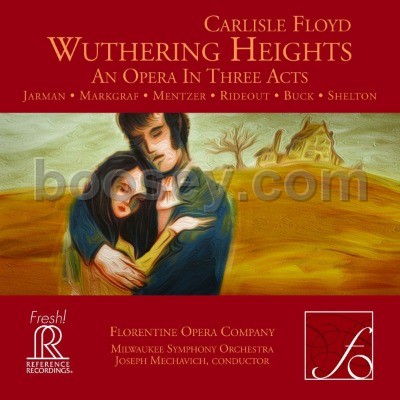 Florentine Opera Company
Milwaukee Symphony Orchestra
John Mechavich, conductor; Georgia Jarman; Kelly Markgraf; Heather Buck
Reference Recordings
Links