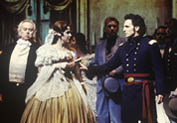 Photo: Ken Howard
Floyd, Carlisle
The Passion of Jonathan Wade
(1962, rev.1989)
Musical Drama in three acts
Duration: 140 minutes
Music Text
Libretto by the composer (E)
Scoring
Major roles: 2S,M,3T,Bar,BBar;
minor roles: S,2boyS,3T,7Bar,2B; chorus
2(II=picc).2(II=corA).2.2-4.2.3.1-timp.perc(2):SD/tamb/glsp/cym/BD/
gong/xyl/wdbl/tgl-harp-strings
Abbreviations (PDF)
Publisher
Boosey & Hawkes
Territory
This work is available from Boosey & Hawkes for the world.
Availability
World Premiere
10/11/1962
City Center, New York, NY
Allen Fletcher, director
Conductor: Julius Rudel
Company: Theodor Uppman/Phyllis Curtin/New York City Opera
World premiere of version
1/18/1991
Brown Theatre, Houston
Carlisle Floyd, director/Guenther Schneider-Siemssen & Allen Charles Klein, designers
Conductor: John DeMain
Company: Houston Grand Opera
Roles
| | |
| --- | --- |
| JUDGE TOWNSEND | Bass-Baritone |
| CELIA TOWNSEND | Soprano |
| YOUNG GIRL | Soprano |
| LIEUTENANT PATRICK | Tenor |
| COLONEL JONATHAN WADE | Baritone |
| FOUR BLACK BOYS | Boy Soprano and Baritone Quartet |
| WOUNDED CONFEDERATE SOLDIER | Baritone |
| NICEY BRIDGES | Mezzo-Soprano |
| J. TERTIUS RIDDLE | Bass-Baritone |
| LUCAS WARDLAW | Tenor |
| ENOCH PRATT | Tenor |
| UNION LEAGUE ORATOR | Tenor |
| SERGEANT BRANCH | Baritone |
| 1st SOLDIER | Tenor |
| 2nd SOLDIER | Bass |
| 1st BLACK SENATOR | Tenor |
| 2nd BLACK SENATOR | Baritone |
| 1st CARPETBAGGER | Tenor |
| 2nd CARPETBAGGER | Baritone |
| JUDGE JAMES C. BELL | Baritone |
| JUDGE McBRIDE | non-speaking role |
| CARRIAGE DRIVER | speaking role |
| People of Columbia, Guardian Knights, Union Soldiers, and Nicey's Friends | |
Time and Place
mid 1860s, post Civil War Columbia, South Carolina
Synopsis
The opera opens in Columbia, South Carolina at the end of the Civil War. It is 1865, and Columbia is a blackened ruin. Colonel Jonathan Wade, a Northern army officer, arrives in town and is greeted by a local judge, Gibbes Townsend, who invites him to dinner and introduces Wade to his daughter Celia, a war widow. Despite parental and societal objections due to the North and South conflicts, Wade and Celia begin to fall in love.
Later, at a party given by Judge Townsend as a gesture of conciliation, two guests, Lucas Wardlaw and Enoch Pratt, quarrel over the rights of newly freed slaves. Wade is caught in the verbal crossfire as guests express anti-Northern sentiments and denounce his views.
In 1866, an order comes from Washington demanding that the defeated Southerners take an oath of loyalty. Judge Townsend refuses, and is therefore forced to resign. Celia, on the other hand, takes the oath and Wade declares his love for her. As Wade and Celia kiss, Wardlaw discovers the couple together and threatens Wade with the vengeance of a vigilante group if he pursues the relationship further.
Colonel Wade appeals to Washington on Judge Townsend's behalf but is unable to reverse the order; Townsend blames Wade, forbidding him to see Celia. Wade and Celia marry in spite of Townsend's opposition, and the judge renounces his daughter. As a result, Wade finds his moderate position difficult to maintain. Pratt decides to have him replaced; Wade decides to desert the army and leave Columbia with Celia.
As the couple is leaving town a shot is fired, and Jonathan Wade dies in Celia's arms. Various parties blame each other for his death. Finally, Celia says they are all culpable, and dreams of a time when their love might have flourished.
Subjects
Links