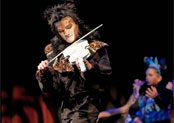 Photo: K. H. Fotobox
Seidler, Chris
Kater Moshe und der Zauberbogen
(Moshe and the Magic Bow)
(2011/16)
Fairytale opera in 2 acts
Duration: 90 minutes
Music Text
Libretto by Chris Seidler (G)
Scoring
4S,A,childS,2T,2hiBar; children's choir; mixed chorus;
1(=picc).1.1.1-2.0.0.0-perc(3):I=4pedal timp/slide whistle/thunder sheet/bag of shards/bottle/iron chains; II=dr set/chimes/2wdbl(hi,lo)/tgl/tamb/cowbell; III=glsp(lg)/xyl(C2-C5)/2wdbl(hi,lo)-2kbd-pft/cel(opt)-elec.bass-solo vln-strings(6.4.4.4.2); soundtrack
Abbreviations (PDF)
Publisher
Boosey & Hawkes / Bote & Bock
Territory
This work is available from Boosey & Hawkes for the world.
Availability
World Premiere
7/16/2011
Musiktheater im Revier, Kleines Haus, Gelsenkirchen
Chris Seidler, director
Company: Opera School Gelsenkirchen / Ustinov Opera School Essen
Roles
| | |
| --- | --- |
| MOSHE the Cat | young Musical-Tenor |
| DANA the Weasel | young Soprano |
| ISMAIL the Beetle | young High Baritone |
| JACOB the Raven | young Soprano |
| King OLVOMON / WARAWAN / Giant Goldfish | High Baritone |
| Magnate of Shadows "Zerrzeck of Zorrzock" | Soprano |
| Druggsagar Birr | Musical-Alto |
| Blueberry Fairy / Princess Olvelia | Soprano |
| Blue Star or the "Light of Snorelanderlan" | young or child Soprano |
| The Ferryman | Tenor |
| Blueberry Elves, Trolls, Dwarfs, Shadow creatures, Monsters, Robots etc. | small roles / soli from chorus |
Synopsis
Moshe the cat lives in King Olvomon's castle on the faraway planet Allguck 3. The evil shadow lady Zerrzeck of Zorrzock has the King's ring stolen in order to expand her dark empire with its energy.

King Olvomon is distraught because he can't think without his magic ring, let alone rule. His daughter asks the court cat Moshe for help. Armed with his magic violin, Moshe sets out to get the ring back. En route, he meets Dana the dancing weasel, Ismail the painting beetle and Jacob the thespian raven, who help him on his quest. Moshe can definitely use their help because the shadow lady now also wants to steal his violin bow! She believes that it is a powerful magic wand that will give her new strength to transform the tears of all beings into gold. Luckily, Moshe is able, after many setbacks, to defeat the shadow lady with wild violin playing, which arouses the most profound emotions, and the ring that was presumed lost also turns up again. But – is it the right ring?
Subjects
Links