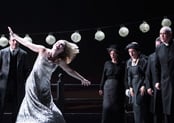 Photo: Bernd Uhlig
Glanert, Detlev
Opera in two acts
Duration: 135 minutes
Music Text
Libretto by Hans-Ulrich Treichel, after 'Oceane von Parceval' by Theodor Fontane (G)
Scoring
S,colS,M/A,T,2Bar,B; mixed chorus;
3(III=picc).2.corA.3(III=bcl).3(III=dbn)-4.3.3.1-timp.perc(3):crot/t.bells/gong/5wdbl/5tpl.bl/5tom-t/cyms/susp.cym/Chin.cym/sizzle cym/anvil/tgl/plate bell/lg tam-t(with cym); chimes/whip/SD/BD; wind machine-2harp-cel-strings; on-stage: Ebcl-cnt.saxhorn-pft-vln.db; 2bells
Abbreviations (PDF)
Publisher
Boosey & Hawkes / Bote & Bock
Territory
This work is available from Boosey & Hawkes for the world.
Availability
World Premiere
4/28/2019
Deutsche Oper, Berlin
Robert Carsen, director
Conductor: Donald Runnicles
Company: Deutsche Oper Berlin
Roles
| | |
| --- | --- |
| Oceane von Parceval, a young woman | Soprano |
| Martin von Dircksen, landowner | Tenor |
| Dr Albert Felgentreu, his friend, a scholar | Baritone |
| Kristina, Oceane's companion | Coloratura Soprano |
| Pastor Baltzer, clergyman | Bass |
| Madame Louise, hotel owner | Mezzo-soprano / Alto |
| George, servant | Baritone |
| Hotel guests, The Voice of the Sea | Chorus |
Synopsis
In a seaside resort in around 1880, the hotelier Madame Louise prepares the annual summer ball. Her servant Georg laments about how shabby the hotel has become – a loan would do the thing. The vacation guests admire the festive decorations and the buffet that Madame Louise, with her predilection for everything French, arranged exquisitely, as always. All those present, including the young landowner Martin von Dircksen and the old pastor Baltzer, additionally await, full of excitement, the appearance of another guest: Oceane von Parceval, a young woman of indeterminate origins, but obviously with a considerable fortune. Hardly does the ball begin than her fun-loving, down-to-earth companion Kristina is already successfully flirting with Martin's friend, the talkative Prussian scholar Albert Felgentreu. When Oceane enters, her beautiful, exotic appearance arouses admiration, but also distrust. Martin is very much fascinated and asks for a dance. Oceane initially declines, feeling herself uneasy in society. Martin's friendly nature finally induces her to consent, yet, during the following dance, Oceane moves away from Martin and increasingly enters a state of ecstasy. The shocked guests, above all Pastor Baltzer, turn against her. The party ends in a tumult in which Martin stands by Oceane, protecting her. She flees from the hate-filled gathering. Martin finds Oceane on the nocturnal beach and declares his love for her. He tries to kiss her. She wants to, yet doesn't want to. He embraces her passionately, forgets himself, becomes violent. Oceane repels him. In despair, because she wants to love but cannot, she shouts out her feelings into the storm wind.
Autumn arrives the next morning, and on the beach a dead fisherman is found washed up. The hotel guests are again perturbed by Oceane, who shows herself entirely emotionless at the sight of the drowned young man. Baltzer leads a short devotion; the body is carried away. In spite of the incident, Kristina convinces Felgentreu, Martin, and Oceane to go through with the planned picnic. Oceane acts a little strangely. She drinks a lot of water, and desires to go swimming in the nude. Kristina and Felgentreu amuse themselves in the dunes. Oceane now seems to show affection for Martin. Just before they kiss, Baltzer suddenly appears. He points the crucifix at the sinners and hurries away, disgusted. Oceane confesses that she knows neither tears nor prayer, nor love. Martin declares that her longing for it suffices. Oceane kisses him intensely. Martin passionately responds to her embrace, not noticing her suddenly returning passivity. Back in the hotel, the two young couples announce their betrothals. Oceane, however, remains silent and impassive from then on. The hotel guests' abhorrence of the outsider grows threateningly. The ferry signals its impending departure. Madame Louise desperately asks Oceane for a loan – in vain. Left behind alone, Oceane realizes that her attempt to be accepted into society has failed. She walks into the sea and vanishes. Martin receives her farewell letter: "I am going away now. Back into the realm of coldness out of which I was born. Yours there too, Oceane."
Repertoire Note
The "mysterious woman from the sea", vainly attempting to fit into human society, was a source of inspiration for writers, composers and artists alike throughout the 19th century. Theodor Fontane, too, tried his hand at the subject matter: Oceane von Parceval, a fragment of an unfinished novella, was just one of his attempts to encapsulate in the form of Melusine the sense of menace and fascination felt by a bourgeois, male-dominated society faced with femininity coupled with an archaic, erotically permissive artlessness. With Fontane, Oceane's inability to sympathise with human destinies serves to amplify her alien nature. She is indifferent to death and love alike, and as such her attempt to have a relationship with a young landowner, Martin von Dircksen, is doomed to failure. For 2019, Fontane's bicentenary, Detlev Glanert and Hans-Ulrich Treichel are continuing a collaboration that began with Caligula in 2006 and have written an opera based on this fragment.
Deutsche Oper Berlin, 2018

Press Quotes
"…well-crafted vocal lines, superb orchestration, clear dramatic shape and descriptive sound-painting." — Shirley Apthorp, Financial Times, 30 Apr 2019
"The applause of the audience was almost frenetic for a premiere, because Glanert knows how to set maritime themes to music: Water is his element, so to speak, and here he plays to his strengths ... At last a world premiere which will surely be replayed soon." — Peter Jungblut, Bavarian Radio, 29 Apr 2019
"The music, performed with unconditional commitment by Donald Runnicles, is atmospheric magic, effective without becoming banal, precise and composed to the point ... one of the most successful new operas of recent times." — Udo Badelt, Der Tagesspiegel, 30 Apr 2019
Subjects
Recommended Recording
Maria Bengtsson, Nikolai Schukoff, Christoph Pohl, Nicole Haslett, Albert Pesendorfer, Doris Soffel, Stephen Bronk / Chor und Orchester der Deutschen Oper Berlin / Donald Runnicles (Berlin 2019 live)
Oehms Classics OC 985
Links