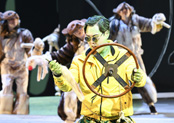 Photo: Nils Klinger
Kats-Chernin, Elena
Der Wind in den Weiden
(The Wind in the Willows)
(2018-19)
Opera for children in 2 acts
Duration: 90 minutes
Music Text
Libretto by Jens Luckwaldt, based on the book by Kenneth Grahame; English version by Benjamin Gordon (G,E)
Scoring
S,M,2T,Bar,B; speaking role; children's choir;
1(=picc).1(=corA opt).1.1-1.1.1.1-perc(1):vib/xyl/glsp/susp.cym/crash cym/SD/BD/Chin.dr/tam-t/metal wind chimes/tgl/flexatone/guiro/ratchet/tamb/3wdbl/2log dr/2tpl.bl/2brake dr/2cowbell/claves/pots&pans/klaxon/wind machine-harp-pft-strings(min.3.3.1.1.1)
Abbreviations (PDF)
Publisher
Boosey & Hawkes / Bote & Bock
Territory
This work is available from Boosey & Hawkes for the world.
Availability
World Premiere
7/2/2021
Opernhaus, Kassel
Sonja Trebes, director
Conductor: Mario Hartmuth
Company: Staatstheater Kassel
Roles
| | |
| --- | --- |
| RAT | Mezzo-Soprano |
| MOLE | Baritone |
| TOAD | high Tenor |
| BADGER | Bass |
| The Chief Weasel / The Jailer's Daughter | Soprano |
| Defence Counsel / Horse | Tenor |
| Judge / Car driver | speaking role |
| Aunt | silent role (from chorus, or doubled by Defense Counsel or Judge) |
| Prosecutor | silent role (from chorus) |
| Spectators and guards in courtroom, Weasels, Voices in Nature | children's chorus |
Synopsis
Mole is sick and tired of spring cleaning. Water Rat has a remedy: there is nothing better than dawdling away the days in a boat. They meet a rich, boastful Toad, who encourages them to ride along in his brand-new carriage. However, as an automobile comes toward them, the inexperienced Toad drives into the roadside ditch, and their adventure trip, hardly begun, ends with a total loss. Undaunted, Toad immediately develops a new passion: to buy a fast auto himself. Under the leadership of the dignified Badger, the other animals attempt to prevent further accidents and lock Toad in his country house. However, he climbs out of the window, steals an auto – and promptly crashes into the next tree. Tried in the court of the humans, he does not show any remorse, so that even his own defense counsel calls for a very harsh punishment. For car theft and, much worse, having insulted the policemen arresting him and repeating these offences before the tribunal, Toad is sentenced to twenty years in jail.

The gaoler's daughter has pity. By disguising him as a washerwoman, she smuggles Toad out of his cell. His escape through the countryside leads him to a further auto theft, among other things, until he collapses, exhausted, in a forest clearing. Here, his slumber is watched over by the god Pan, the protector of nature and all animals, whose singing also attracts Rat and Mole to help Toad. But Toad also learns that during his absence his residence has been taken over by wild Weasels. Together, Toad, Rat, Mole, and Badger recapture the house. When Toad learns that the Weasels did not act out of malice, but merely wanted a warm bed and a roof over their heads for once, he invites them to stay. They all celebrate Toad's transformation, friendship, and the joy of sharing.
Subjects
Links