Shostakovich, Dmitri
The Great Lightning
(1933)
Comic opera (unfinished)
Duration: 16 minutes
Music Text
Nikolai N. Asayev (R)
Scoring
S,4T,Bar,3B; SATB chorus
2.picc.2.corA.2.Ebcl.ssax.2.dbn-4.3.3.1-timp.perc:tgl/wdbl/SD/cyms/BD/gong/glsp/xyl/flex/tam-t-harp-strings
Abbreviations (PDF)
Publisher
Boosey & Hawkes / Sikorski
Territory
This work is available from Boosey & Hawkes / Sikorski for the UK, British Commonwealth (excluding Canada), Republic of Ireland, Germany, Switzerland, Denmark, Iceland, Norway, Sweden, Netherlands, Spain, Portugal, Greece, Turkey, Israel.
Availability
World Premiere
2/11/1981
Leningrad Conservatory Bolshoi Hall, Leningrad
Conductor: Gennadi Rozhdestvensky
Company: Leningrad Conservatory
Roles
| | |
| --- | --- |
| MAYOFEL, a Soviet delegate | Baritone |
| SEMYON, a Soviet delegate | Bass |
| YEGOR, a Soviet delegate | Tenor |
| ARCHITECT | Tenor |
| HOTEL MANAGER | Bass |
| TOMMY | Tenor |
| OLD WOMAN | Soprano |
| VOICE FROM THE MEGAPHONE | Bass |
Time and Place
A Western city during the Soviet era
Synopsis
In a grand hotel in an unnamed capitalist country, cleaning staff, urged on by an officious supervisor, are making ready for the arrival of a deputation from the USSR at a trade fair. An architect tells them what to expect when these 'Bolsheviks' arrive. An American makes his appearance with a lively dance, after which another delegate Mayofel boasts how easily his 'Silver Bullet' racing-cars can beat American cars. Semyon, a Soviet delegate, tries to phone the Soviet embassy but keeps getting put through to wrong numbers: first to a chiropodist, then to an aluminium plant. He and his friend Yegor sing with patriotic fervour of how they will overcome the 'hostile lilliputians' of the capitalist world. The scene then changes to a fashion-parade….. And with this the unfinished score ends.
Repertoire Note
Popular music was always a big part of Shostakovich's work. In 1932 he decided to try his hand at operetta. The project was abanadoned shortly after he started and all that survives are these nine numbers from the first act. They are enough to show us that 'The Great Lightning' would have been a sparkling and satirical piece about the visit of a Soviet delegation to a corrupt Western capitalist country.


This surviving music shows the young Shostakovich in his most light-hearted mood. It is full of deft parodies and catchy tunes that vividly evoke the popular songs and dances of the 1920s and '30s. The final item is a purely instrumental number, a lively procession of dancing models down the catwalk in a fashion show. The whole sequence lasts only just over a quarter of an hour, and would make a charming addition to a concert of light-music favourites.


Note by Gerard McBurney
Subjects
Recommended Recording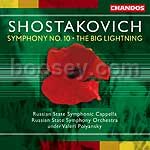 Vsevolod Grivnov/Dmitry Fadeyev/Oleg Dolgov/Andrei Baturkin/Tatiana Sharova/Anatoly Safiulin/Russian State Symphony Orchestra and Cappella/Valery Polyansky
Chandos CHAN 9522
Links