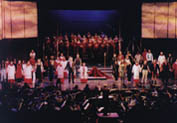 Photo: R.R. Jones/Courtesy Cabrillo Festival of Contemporary Music
Bernstein, Leonard
Mass (full version)
(1971)
A theatre piece for singers, players, and dancers
Duration: 108 minutes
Music Text
Libretto from the liturgy of the Roman Mass, with additional texts by Stephen Schwartz and the composer (L,E)
Scoring
Celebrant (lead solo); soloists (ca.20 from Street People);
SATB robed choir (ca.60); boys' choir (ca.20 with boyS solo);
Street People (ca.45 singer-dancers)
Stage orchestra (in costume, acting as cast members): 2(I,II=picc).2(II=corA).3(=3sax(SAT)/Ebcl/bcl).2(II=dbn)-4.4.3.1-perc(2):2sets of traps/bongos/tpl.bl/finger cyms/glsp/2tambs-street perc:claves/bottles/gourds/3steel dr/tin cans/tambs-2elec.guitars-bass guitar-2elec.kybds
Pit orchestra: harp-2Allen org-timp.perc(3-4):cel/vib/glsp/marimba/xyl/chimes/SD/TD/
BD/bongos/4tuned dr/susp.cyms/cyms/tgl/tpl.bl/tamb/tam-t/wdbl/anvil/2cowbells-strings-pre-recorded tape
Abbreviations (PDF)
Publisher
Boosey & Hawkes, Sole Agent
Territory
This work is available from Boosey & Hawkes for the world.
Availability
World Premiere
9/8/1971
Kennedy Center, Washington, DC
Alvin Ailey, choreographer / Gordon Davidson, director
Conductor: Maurice Peress
Roles
| | |
| --- | --- |
| Celebrant (lead solo) | |
| Soloists (ca. 20, from Street People) | |
| SATB robed choir (ca. 60) | |
| Boy Choir (ca. 20, including boy soprano solo) | |
| Street People (ca. 45, singers-dancers) | |
Time and Place
time not specified - a place of worship
Synopsis


Mass
is based on the Roman Catholic Mass, as seen from the point of view of a Celebrant who is experiencing a crisis of faith. It follows the liturgy exactly, but the liturgical passages are juxtaposed against frequent interruptions and commentaries by the Celebrant and the congregation, much like a running debate. The Celebrant's faith is simple and pure at first, as shown in his wish to sing "a simple song" in praise of God. Yet that faith gradually becomes unsustainable under the weight of human misery, corruption, and the trappings of human power. In the end, the Celebrant, on the verge of renouncing his faith, finds that the loneliness of his doubt is no match for the the joy of gathering together with other believers in praise.
Press Quotes
"…"Mass" re-emerged as the moving and visionary piece it's always been -- arguably the best thing Bernstein ever wrote."
The Washington Post

"Bernstein left nothing of himself out of "Mass," and like the man who wrote it, the piece demands to be noticed. …beneath the original dramatic conception, the creative exuberance, the showbiz glitter and the ear-catching set numbers is a sophisticated, carefully controlled piece of musical craftsmanship that repays close scrutiny. …Yes, Bernstein could manipulate a 12-tone row with the best of them.

"…[an] extravagant, exuberant and endlessly inventive creation…"
The New York Times

Subjects
Recommended Recording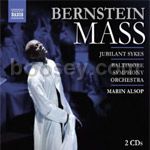 Links