Kienzl, Wilhelm
A musical tragicomedy in three acts
Duration: 180 minutes
Music Text
Libretto by the composer (G)
Scoring
5S,M,3A,lyrT,buffoT,lyrBar,characterBar,2B,buffoB; chorus; ballet;
3(III=picc).2(II=corA).2.bcl.2.dbn-4.3.3.1-timp.perc-2harps-strings;
On-stage:2picc-2hn.4tpt-gtr-perc
Abbreviations (PDF)
Publisher
Boosey & Hawkes / Bote & Bock
Territory
This work is available from Boosey & Hawkes for the world.
Availability
World Premiere
11/18/1898
Königliche Hofoper, Berlin
Conductor: Carl Muck
Company: Königliche Hofoper Berlin
Roles
| | |
| --- | --- |
| THE DUKE | Lyric Tenor |
| THE DUCHESS | High Soprano |
| DON CLAVIJO, the duke's chamberlain | Bass |
| ALONZO QUIXANO, called 'Don Quixote of the Mancha' | Character Baritone |
| MERCEDES, his niece | Mezzo Soprano |
| SANCHO PANSA, peasant | Buffo Tenor |
| CARRASCO, barber | Lyric Baritone |
| TIRANTE, innkeeper | Buffo Bass |
| MARITORNES, his daughter, and ALDONZA, waitresses | Soprano, Alto |
| A MESSENGER | Bass |
| KITCHEN BOY | Soprano |
| Maids in the duchess's service: FRASQUITA | Soprano |
| ROSITA | Soprano |
| MARIETA and JUANITA | Contraltos |
Time and Place
In the Mancha in the 16th century
Synopsis
Reading romances of chivalry has confused Don Alonzo of Quixano's mind. While dreaming and while awake, he thinks of himself as Don Quixote, a knight of King Arthur's Round Table, who has to roam the world in order to restore virtues in an age of vice. But his highest aim is to prove himself worthy of Dulcinea of Toboso who he has envisioned in a dream. In an inn near his home, the innkeeper Tirante, whom he thinks to be the lord of a castle, dubs him a knight. Then he finds Sancho Panza, a good-hearted idiot, who wants to serve him as a squire. Don Quixote's first adventure – during which he believes he has liberated Princess Micomicona from the power of a giant, though in fact he has only chopped the wineskins of the inn to pieces – makes him aquainted with the duke. He invites the strange pair to his castle, sensing superb entertainment. Although a nasty game is played with the 'Knight of the rueful countenance', he does not lose his dignity, for he feels sure of his victories. Eventually Carrasco manages to make Don Quixote come home again, using a trick. He burns his books of chivalry which have only brought pain and disillusion on him, makes his will and dies.
Moods
Comic, Romantic, Tragic
Subjects
Recommended Recording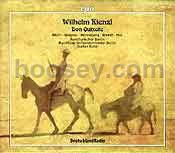 Thomas Mohr / James Wagner / Matthias Henneberg / Michelle Breedt / Thomas Hay / Rundfunkchor Berlin / Rundfunk-Sinfonieorchester Berlin / Gustav Kuhn
cpo 999 873-2