Bartók, Béla
Duke Bluebeard's Castle
(A Kékszakállú herceg Vára)
(1911, rev. 1912/18)
Opera in one act
Duration: 55 minutes
Music Text
Libretto by Béla Balász; English version by Chester Kallman (H,E,G)
Scoring
S,B, 3mimes, speaker (optional)
4(III,IV=picc).2.corA.3(III=bcl).4(IV=dbn)-4.4.4.1-timp.perc(2):BD/
small dr/tam-t/cyms/susp.cym/xyl/tgl-2harp-cel-org-strings
On-stage: 4tpt.4trbn
Abbreviations (PDF)
Publisher
Boosey & Hawkes
Territory
This work is available from Boosey & Hawkes for the USA only.
Availability
World Premiere
5/24/1918
Budapest
Conductor: Egisto Tango
Company: Royal Hungarian Opera
Roles
| | |
| --- | --- |
| BLUEBEARD | Baritone |
| JUDITH | Soprano |
| Bluebeard's former wives | non-speaking roles |
| Prologue (optional) | speaking role |
Time and Place
Medieval times. Bluebeard's Castle
Synopsis
Young Judith leaves her family and her betrothed and flees with Bluebeard to his castle. When they enter the castle, Judith plans to make improvements on the dark and generally dreary home the lovers will share. Bluebeard instructs her not to open any of the seven doors in the castle, but she is insistent. The first door reveals Bluebeard's torture chamber, where the walls drip with fresh blood. This doesn't deter Judith: she is both inquisitive and, perhaps, a bit insecure, ultimately prodding Bluebeard into handing over the keys to all seven doors so that she might know him better. Against Bluebeard's wishes she continues to open doors, ultimately revealing various aspects of Bluebeard's past. At the seventh door, Bluebeard's three former wives step out into the hall. They are the Duke's morning, noon, and evening wives, and Judith is now his midnight wife. He weighs her down with jewels, a crown, and a cloak, and she follows a moonbeam into the seventh chamber, the door closing behind her.  Bluebeard is left alone in darkness.
Repertoire Note
Often now well paired with Schoenberg's Erwartung or Stravinsky's Oedipus Rex, Bartók's opera was originally performed as a companion work to his ballet, The Wooden Prince. His librettist, Béla Balázs, wanted "to depict a modern soul in the primary colours of folksong". The partnership worked better here, dramatically and musically, than in their balletic collaboration a few years later. As the opera lasts for under one hour, involves only two singing voices, and is a psychological drama, concert performances are also highly effective.

Note by Malcolm Gillies
Subjects
Recommended Recording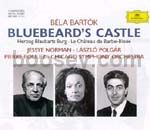 László Polgár, Jessye Norman, Chicago Symphony Orchestra, Pierre Boulez
Deutsche Grammophon 447 040-2
Links