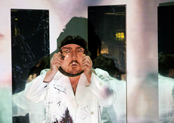 Photo: Monika Rittershaus
Glanert, Detlev
Opera in four acts based on the play by Albert Camus
Duration: 135 minutes
Music Text
Libretto by Hans-Ulrich Treichel; English version by Amanda Holden (G,E)
Scoring
S,M,A,CT,T,dramBar,Bar,B; 2T,2B soli from chorus; mixed chorus;
3(II,III=picc,II=afl).2(II=corA).0.Ebcl.bcl.2.dbn-0.4(I,II=picctpt).3.dbtuba.2Wagner tubas(T,B)-timp.perc(5):anvil/BD/8gongs/3tam-t(hi,med,lo)/t.bells/susp.cym/cym/3wdbl(hi,med,lo)/2tom-t(med,lo)/maracas/guiro/SD/cast/crot/sizzle cym/marimba/whip/glsp/tgl/vib/ratchet/claves/2bongos(hi,med)-2harps-pft-cel-pedal org-strings(min.12.10.0.6.4)-tape; kbd instruments require only 2 players; on-stage small hand perc to be played by 5 singers
Abbreviations (PDF)
Publisher
Boosey & Hawkes / Bote & Bock
Territory
This work is available from Boosey & Hawkes for the world.
Availability
World Premiere
10/7/2006
Oper, Frankfurt a.M.
Christian Pade, director
Conductor: Markus Stenz
Company: Oper Frankfurt
Roles
| | |
| --- | --- |
| CALIGULA, Caesar | Dramatic Baritone |
| CAESONIA, Caligula's wife | Mezzo-soprano |
| HELICON, Caligula's slave | Countertenor |
| CHEREA, state procurator | Bass |
| SCIPIO, a young patrician | Alto |
| MUCIUS, senator | Tenor |
| MEREIA / LEPIDUS, Roman nobles (doubling role) | Baritone |
| LIVIA, Mucius' wife | Soprano |
| Four poets | 2 Tenors, 2 Basses (soli from chorus ab lib.) |
| Men and women, voices | mixed chorus (min.15.15.15.15) |
| DRUSILLA | silent role |
Synopsis
Following the death of his sister and lover, Drusilla, Emperor Caligula disappears. Three days later he returns, dirty and completely changed. Not only does he order his former slave, Helicon, to bring him the moon, but he also enacts absurd and brutal laws. He reveals his plans to his wife, Caesonia: he wants to enforce the elimination of evil in the world and hold an excessive feast. Appalled though she is, she confirms her love for him. Faced with Caligula's ever more apparent madness, the senators are conspiring against him when the Emperor suddenly surprises them at their secret meeting. In their presence, he rapes the wife of one of them, not giving them a chance to prevent it, and forces another one to drink poison. The only one to defy Caligula is the poet, Scipio, who is not frightened by Caligula's threats.

During some festivities, Caligula appears as Venus – he has decided to marry the moon. He forces all the guests to worship him. Helicon has got hold of a wax tablet which contains evidence of Chaerea's conspiracy. Caligula destroys this evidence but lets Chaerea go. Impressed by the sheer scope of Caligula's power, the avengers cannot help but join in the worship. The Emperor, however, senses his impending death. He is desperate because Helicon is unable to bring him the moon to his relief. To provide some distraction, he sends for four poets and an audience but after briefly listening to their presentations, he sentences them all to death. The conspirators have just resolved to put an end to the tragedy that very night when suddenly Caligula's death is announced. As they are expressing their relief, the Emperor appears – the message was a trick. Caesonia makes a last attempt to move him; he, however, demands her death as the ultimate proof of her love. She agrees to be strangled by him. Alone, Caligula is overpowered and killed by the conspirators.
Press Quotes
Perhaps the finest German opera of the 21st Century.
Guy Richards, Tempo, Oct 2010

Both the music and the libretto have an outstanding clarity and density. One can clearly follow the delicate dramatic structure, while the music not only includes strong effects and extremes but also traces the verbal development of an absurd exertion of power to a degree that ideally matches the text.
Hans-Hürgen Linke, Frankfurter Rundschau, 09 Oct 2006

Detlev Glanert's opera is a tremendous achievement. He is a master of orchestration, creating soundscapes between nerve-racking silence and wild, orgiastic noise. The orchestra reflects Caligula's mental conditions; one could say that it leads the audience through the brain convolutions of this by no means mad person, who is driven to confusion by the truth.
Peter Jungblut, B 5 aktuell, 09 Oct 2006

Albert Camus once said his dream was to write "music for feverish voices of modern people." With Glanert's powerful, philosophically sensual musical language, Camus' dream became reality. An effervescent, colourful musical drama which will attract many stages. A composition which will be seen as one of the great musical works of fate.
Barbara Röder, Scherzo, Nov 2006
Subjects
Recommended Recording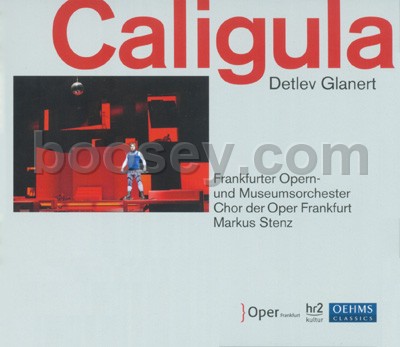 Holland / Schuster / Wölfel / Frank / Adamonyte / Lazar / Volle / Zechmeister / Frankfurter Opern- und Museumsorchester / Chor der Oper Frankfurt / Markus Stenz
OehmsClassics OC 932
Links