Deutsch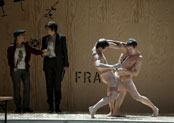 Photo: Ludwig Olah
Nürnberg 2010 (WP), Johann Kresnik, dir.
Glanert, Detlev
Das Holzschiff (2008-2010)
(The Wooden Ship)
Duration: 100 minutes
Opera in one act
Libretto by Christoph Klimke, based on the the novel by Hans Henny Jahnn (G)
Scoring
S,M,T,Bar,B; dancers; chorus; 3(II,III=picc).1.corA.1.bcl.3(III=dbn)-4.2.3.1-timp.perc(3)-2harp-accordion-strings(min.12.10.8.6.4).
Abbreviations (PDF).
Territory
This work is available from Boosey & Hawkes for the world.
World Premiere
09/10/2010
Opernhaus, Nürnberg
Johann Kresnik, director
Conductor: Guido Johannes Rumstadt
Company: Staatstheater Nürnberg
Roles

| | |
| --- | --- |
| GUSTAV ANIAS HORN, Ellena's fiancé | Mezzo-Soprano |
| ELLENA STRUNCK, the Captain's daughter / ALFRED TUTEIN, ordinary seaman | Soprano |
| WALDEMAR STRUNCK, Captain of the ship | Baritone |
| GEORG LAUFFER, supercargo | Bass |
| PAUL FITTE, ship cook | Tenor |
| Demons, phantoms | dancers |
| The ship's crew | mixed chorus, dancers |
Synopsis
A ship puts out to sea, carrying unknown freight and heading for an unknown destination. Rumours begin to spread amongst the crew, culminating in mutiny. A mysterious cargo supervisor stands before the young lovers, Ellena und Gustav. Ellena disappears into the labyrinth in the lower deck. An ordinary seaman, Alfred Tutein, and his new friend Gustav become blood brothers. When the wooden ship sinks, the two of them escape to another world.
Hans Henny Jahnn's 'Das Holzschiff' (The Ship), the first part of his well-known trilogy, 'Fluß ohne Ufer' (The Shoreless River), is considered a novel about the dissolution of boundaries. The principles of order and profit are abandoned and boundaries are crossed in the search for a world of art and nature.
Christoph Klimke
Press Quotes
"Glanert and his librettist skilfully compress Jahnn's poetic-utopian vision... into 90 minutes of gripping music theatre… All the ingredients of a thrilling seafarer story are present, as it sails powerfully and sensually in the wake of nautical horror stories... an unstintingly acclaimed successful first performance at the Nuremberg Staatstheater." (Thomas Heinold, Nürnberger Zeitung, 11 Oct 2010)

"An exciting operatic thriller... The destination of ship, cargo and crew is in truth completely unknown. After an hour-and-a-half the ship has sunk, the engagement between Gustav and Ellena is off, the bride has disappeared, and the bridegroom swims on a single plank with sailor Alfred Tutein towards the rosy dawn of a new future and liaison. By then, we have experienced a tale of mystery and deception, of sexual obsession and dissolution." (Uwe Mitsching, Nürnberger Nachrichten, 11 Oct 2010)

"For Glanert's one-acter, Christoph Klimke has condensed, transformed and lyricised the novel and created space for dance interludes: the experienced opera composer knows how to structure an evening full of contrast, yet unified. The musical protagonist is naturally the sea, unpredictably roaring, programmatically suggestive in the orchestral spray and tumult..." (Gerhard R. Koch, Frankfurter Allgemeine Zeitung, 12 Oct 2010)

"...the subject is really crying out to be set to music, Detlev Glanert, who with a dozen operas in his career no longer has to prove himself, has no trouble in painting the picture of a veritable seascape with illustrative opulence. Here, the orchestral waves roar, flutter-tongued storm winds take possession of all instrumental groups, personal motifs pervade the scenery, everything sounds scarily good..." (Juan Martin Koch, Donaukurier, 11 Oct 2010)
Moods
Dramatic
Subjects
Society
Mailing List
Sign up for news updates and offers via email
SIGN UP
ONLINE SCORES