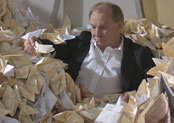 Photo: Michel van der Aa
Linz 2009 (still from film), Michel van der Aa dir.
Aa, Michel van der
The Book of Disquiet (2008)
(Das Buch der Unruhe)
Duration: 75 minutes
Music theatre for actor, ensemble and film
Libretto after Fernando Pessoa, adapted by Michel van der Aa (E,G,Pt)
Scoring
1.0.1.1-0.1.0.0-perc(1):vib/glsp/3metal pieces/cabasa/maracas/egg shaker/4Chin.tom-t/BD/bamboo chimes/ratchet/whip(med)/wdbl(lo)/2log dr/tgl(hi)/2susp.cym-4vln.3vla.2vlc.db-soundtrack(laptop,1player)-film(2screens)
Abbreviations (PDF)
World Premiere
1/2/2009
Hafenhalle09, Linz
Michel van der Aa, director
Conductor: Dennis Russell Davies
Company: Klaus Maria Brandauer, actor / Bruckner Orchester Linz
Synopsis
The Book of Disquiet is a collection of fragmentary texts, diary entries and autobiographical anecdotes only published fifty years after the death of Fernando Pessoa. It was assembled from loose sheets of paper, found in a box trunk on his death. Michel van der Aa narrowed down the texts through a process of selection in order to create a piece that could exist in 'real' time in the theatre. A series of recurring themes group the fragments by subject matter, for instance isolation, love or dreams.
There are realistic scenes with the alter-egos of Bernardo Soares but also scenes that are much more abstract, drawing upon entries found in the book to create a more dreamlike mise-en-scène. So the video switches between imagery that literally extends the physical events on stage, and more surreal scenes that make us delve deeper into the mind of the protagonist.
Subjects
Contemporary, Society
Recommended Recording