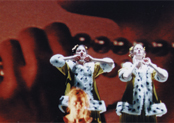 Photo: Archive
Amsterdam 1999 (FP), Peter Greenaway/Saskia Boddeke, dir
Andriessen, Louis
Writing to Vermeer (1997-98)
Duration: 102 minutes
Opera in six scenes for 3 women, 2 children, women's chorus and orchestra. Electronic music inserts by Michel van der Aa.
Libretto by Peter Greenaway (E)
Scoring
2S,M,2children's voices; chorus (SA) 3(I,II,III=picc,III=afl).2(I,II=corA).0.2bcl(II=dbcl).0-2.2(II=btpt). 0.0-perc(2):cel/glsp/gongs/vib/bell-tree/BD/guiro/2lg tgl/t.bells/ breaking glass/tamb/2pairs of bongos/2lg cyms/heavy object,thrown in water/xyl/2wdbl/2sm tom-t/cast/tam-t/lg sizzle cym/timp/lg gong/lg tom-t/old clock/SD/sm bongo/hard metal/hard high metal rattle/loud log dr/lg wdbl-2pft-2harps-2elec.gtr-cimbalom-hpd(on stage)-strings (min.6.6.4.4.2)

Required:
4 full-range speakers + 4 Subwoofers
Laptop with ProTools 11.3 or Ableton Live9 for electronic score playback
Laptop with Native Instruments Kontakt 5, 25-key Midi keyboard, Midi- and 2-ch audio interface for sampler trigger events

Audio files and full technical instructions are available with the hire material
Abbreviations (PDF)
World Premiere
01/12/1999
Netherlands Opera, Amsterdam
Susan Narucki, Susan Bickley, Barbara Hannigan, Peter Greenaway/Saskia Boddeke, dir
Conductor: Reinbert de Leeuw
Company: Netherlands Opera/ASKO & Schoenberg Ensemble

Roles
| | |
| --- | --- |
| 2 CHILDREN | Children's voices |
| CHORUS | Sopranos/Altos |
| SASKIA DE VRIES | Soprano |
| CATHARINA BOLNES | Soprano |
| MARIA THINS | Mezzo-Soprano |
Time and Place
Johannes Vermeer's household in Delft, May 1672
Synopsis
Vermeer has left his household of women and children in Delft to spend fourteen days in The Hague. The women write to him, six letters from his wife, Catherine Bolnes, six letters from his mother-in-law, Maria Thins, and six letters from his model, Saskia de Vries. They write of domestic arrangements, the activities of Vermeer's children, marriage plans, domestic accidents, but most of all they write to Vermeer to tell him to hurry back home. They miss him, they miss his company, they miss his presence and his affection.
Whilst Vermeer is absent, the women defend their household against the potential erosion of five liquids, ink from an excess of writing, varnish that threatens the life of a child, milk that endlessly pours from the milkmaid's jug, blood that demonstrates the violence of political assasination and finally water that ultimately sweeps them, their household, their children and the stage away.
Peter Greenaway
Subjects
History, Literary, Music/Arts, Politics
Recommended Recording
Susan Narucki/Susan Bickley/Barbara Hannigan
Asko & Schönberg Ensembles/Reinbert de Leeuw
Nonesuch 7559798872

Buy the MP3 Album from Nonesuch