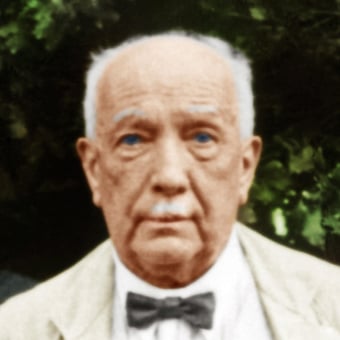 Richard Strauss
1864 - 1949
Richard Strauss was a leading post-Romantic German composer - his tone poems in the 1890s marked him as a radical successor to Wagner and Liszt. His musical style, trusting utterly to tonality, combines Wagnerian richness with Mozartian expression in melody; his orchestration demonstrates dramatic instinct and great virtuosity, with chamber-like scoring; and his output includes some of the greatest-ever writing for the female voice.

An excellent story-teller, the huge successes of Salome, Elektra and Der Rosenkavalier established him as one of the most important living composers, and he created many of the most widely-performed 20th century operas, including works ranging from the comic lightness of Ariadne auf Naxos to the complex psychology of Die Frau ohne Schatten.

Following the troubled period of the Nazi regime, the last decade of his life brought remarkable autumnal masterpieces such as Metamorphosen and the Four Last Songs - perhaps the best-loved orchestral songs by any composer.
Bestselling Titles by Richard Strauss